Welcome to

East Leonard Elementary (PK-5)

We have amazing staff members who work together daily to provide a safe, caring, and supportive environment for our scholars. We believe that all scholars can achieve, and that with effective effort, they will grow both socially and academically. The rich diversity of our community is celebrated and allows for insight, compassion, and appreciation.

If you would like to learn more about East Leonard or schedule a visit to see the school culture in person, please feel free to contact our school.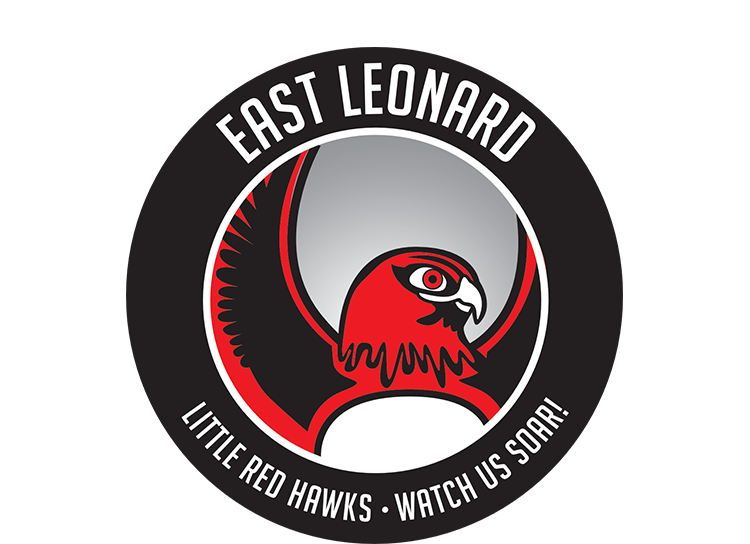 Matthew Beresford
Executive Director of Preschool, Elementary & K-8 Instructional Support
Melissa Manning
Principal
Kellie Bunce
Head Secretary
School Hours
Breakfast 8:10 a.m.
Start Time 8:30 a.m.
Dismissal 3:26 p.m.
Half Day Dismissal 11:40 a.m.
Small school, BIG dreams!
East Leonard Elementary School is a neighborhood school on the northeast side of Grand Rapids. It is located on top of a hill overlooking our beautiful, diverse city.
East Leonard is a small but mighty school. Because of this, our staff learn each child's name and develop strong relationships with scholars in every grade. The team at East Leonard works collaboratively to provide a safe, caring, and supportive environment for all children. We believe that all scholars at East Leonard are important and are the responsibility of every staff member. We work to understand the academic and social needs of every scholar. Scholars receive small group instruction based on their needs. If you are looking for a school that will give your child the personalized attention they deserve, East Leonard is the right choice!
We have incorporated distance learning for years and are poised to be a leader in the district as a blended model of new technologies and old practices, giving our students the best of both worlds. Our 1-to-1 student technology device approach ensures that every student has the opportunity to learn inside and outside the classroom.
East Leonard Elementary Photo Tour
---

First Day of 2022-2023 School Year

Calendar:

GRPS District Calendar

East Leonard Elementary Open House

Location:

East Leonard Elementary School, 410 Barnett St NE, Grand Rapids, MI 49503, USA

Calendar:

East Leonard Calendar

This event has a video call. Join: https://meet.google.com/uuk-qdez-xqa

No School

Calendar:

GRPS District Calendar

No School - Labor Day

Calendar:

GRPS District Calendar

FOOD TRUCK 4:30-5:30

Calendar:

East Leonard Calendar

NO SCHOOL - Thanksgiving Break

Calendar:

GRPS District Calendar

NO SCHOOL - Winter Break

Calendar:

GRPS District Calendar

FOOD TRUCK 4:30-5:30

Calendar:

East Leonard Calendar
Calendar

Previous

August

2022

Next

S
M
T
W
T
F
S
1
2
3
4
5
6
7
8
9
10
11
12
13
14
15
16
17

Aug 17

5:30 PM to 6:30 PM

East Leonard Elementary Meet the Staff

Location:

East Leonard Elementary School, 410 Barnett St NE, Grand Rapids, MI 49503, USA

Calendar:

East Leonard Calendar

This event has a video call. Join: https://meet.google.com/axn-hmst-dnp

18
19
20
21
22
23

Aug 23

First Day of 2022-2023 School Year

Calendar:

GRPS District Calendar

24
25
26
27
28
29
30
31

Aug 31

5:30 PM to 6:30 PM

East Leonard Elementary Open House

Location:

East Leonard Elementary School, 410 Barnett St NE, Grand Rapids, MI 49503, USA

Calendar:

East Leonard Calendar

This event has a video call. Join: https://meet.google.com/uuk-qdez-xqa

GRPS Superintendent Joins in Prayer for 2022-23 School Year
August 16, 2022

Subject: Communicable Disease Guidance for the Start of School
August 15, 2022

GRPS to Engage Community on Future of District Buildings
August 12, 2022