Community & Student Services
Our mission is to support scholars, families, and schools by engaging all stakeholders to meet the differing academic, social, emotional, and physical needs of every scholar.
Commitment to Scholar Success
---
Our staff is committed to ensuring those we serve have the resources they need while at GRPS and in the real world. We work hard to meet the demands of our community and provide services that are equitable and accessible at any phase in life.
Our Focus Areas
Building a cooperative link between home, school, and community

​Removing barriers that impede scholar growth and success

​Creating road maps to ensure our scholars succeed academically and social-emotionally

Community & Student Services Resources
---
Scholar Resource & Responsibility Guide (Handbook)
OurScholar Resource & Responsibility Guide is an essential resource that outlines information related to scholar behavior and expectations at school. We encourage you to review this handbook with your child to familiarize them with the rights and responsibilities that create a safe, positive, productive learning environment.
Guía de recursos y responsabilidad académicos de GRPS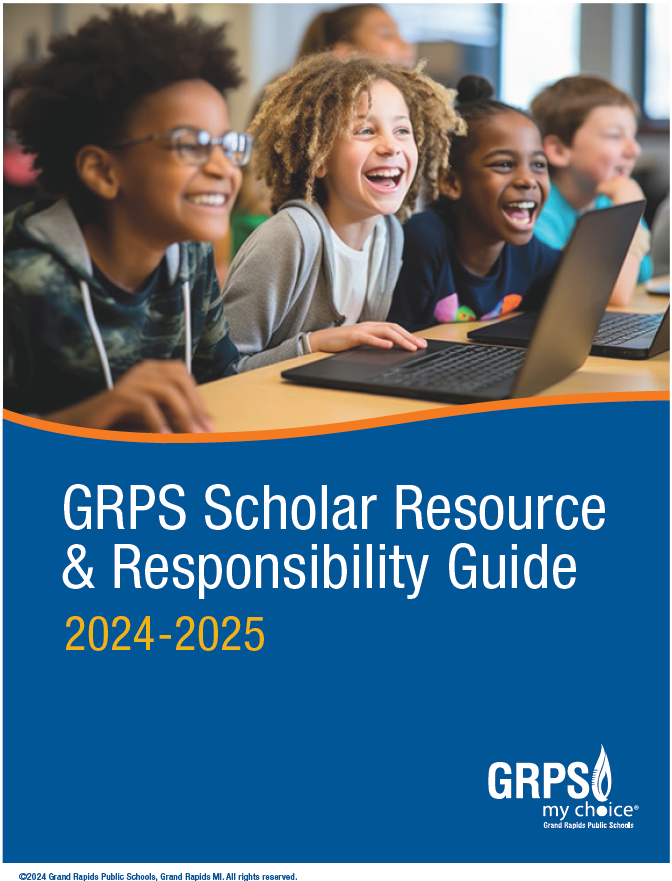 Applications & Enrollment
Community & Student Services is the home of GRPS Enrollment. We support scholars and families by assisting with:
Record Types Available for Request:
High School Transcripts

Proof of Attendance

Individualized Education Plans (IEPs)
Anyone seeking school records for employment, governmental benefits, or continuing education shouldfill out a records request form and send it to enrollment@grps.org. You will also need to submit a photocopy of identification, which can be a state ID, driver's license, passport, or birth certificate.
Please allow up to three business days to process the request. Community & Student Services will be in contact for updates or questions.
Diploma or GED Copy Request
Request a Copy of your Diploma:
If you are seeking a copy of your diploma, please contact Jostens by clicking the button below to complete the GRPS Diploma Request Form.
Request a Copy of your GED:
If you are seeking a copy of your GED, please visit the GED® Testing Service website by clicking the button below.
Scholars under the age of 18 must obtain a work permit from the school district in order to be employed. Please follow the steps below to complete a work permit.
Step 1: Fill Out Work Permit Form
Pick up a work permit form from Franklin Campus (1331 Martin Luther King Jr St SE) and complete Section I. You may also download the forms by clicking the buttons below.
Work Permit for scholars under 16 years of age Work Permit for scholars 16 or 17 years of age
Step 2: Give Work Permit Form to Employer to Complete
Email the permit or provide a paper copy to your employer to complete Section II. The employer will complete the form and return the permit to the scholar.
Step 3: Send Completed Work Permit Form to Office of Student Services
Send the permit and a copy of a birth certificate, state ID, OR school ID to workpermits@grps.org for review and final signature. If you have a paper copy, you may bring the form and proof of identification to Community & Student Services at 1331 Martin Luther King Jr St SE.
Step 4: Receive Signed Work Permit Form from Office of Student Services
The Office of Student Services will return the completed form and supplemental letter to the scholar.
Grand Rapids Public Schools offers a special opportunity for our senior citizens: The GRPS Golden Age Pass Card.
If you are a senior citizen, apply for your FREE Golden Age Pass Card Card and receive:
Free or discounted admission to many area school sponsored athletic and cultural events held within the Grand Rapids metropolitan area.
Discounts at some area restaurants, theaters, and parking ramps.
Reduced RAPID bus fares.