Welcome to

Grand Rapids Public Schools

Gun Confiscated at Entryway to OHHS
December 5, 2023

GRPS Band Members Selected for Prestigious Honor Band Concert
December 4, 2023
A quintet of GRPS students from Harrison Park Academy and CA Frost Environmental Science Academy participated in the Middle School Honor Band at Western Michigan University in mid-November.

'Reimagine' Vlog: We want to hear from you!
November 17, 2023
This week's 'Reimagine' vlog focuses on the intense community engagement efforts underway ahead of the Board vote in December.

Reimagine: GRPS leadership makes recommendations on school buildings
November 13, 2023
Grand Rapids Public Schools leaders have shared recommended changes to the Board of Education regarding the use of the school district's buildings in the years to come and the use of the $305 million bond overwhelmingly passed by voters in the November election.

Retired custodian continues serving youth through nonprofit she started
November 10, 2023
Retiring after 30 years of service at Grand Rapids Public Schools, Brenda Cage says that she isn't done yet.

GRPS: What happens following the historic bond vote win?
November 8, 2023
GRPS is quickly moving to the next phase of the 'Reimagine GRPS with Us!' plan following the historic voter support of the district's bond in Tuesday night's election.
This is a secondary tab that can be activated when needed to show additional content on the home page without having to increase the height of the page.
Could be used for various other news that is posted.

Reimagine GRPS with Us! Community Feedback Session

Location:

Grand Rapids Public School, 1331 M.L.K. Jr St SE, Grand Rapids, MI 49506, USA

Calendar:

GRPS District Calendar

Reimagine GRPS with Us! Community & Scholar Feedback Session

Location:

Union High School, 1800 Tremont Blvd NW, Grand Rapids, MI 49504, USA

Calendar:

GRPS District Calendar

Ottawa Hills City Sprints Swim Invitational

Calendar:

GRPS District Calendar

Board of Education Special Board Meeting/Work Session

Location:

Franklin Campus Administration Building Room 101; 1331 Franklin St. SE, Grand Rapids, MI 49506

Calendar:

Board of Education

Calendar:

GRPS District Calendar

Board of Education Regular Board Meeting

Location:

Franklin Campus Administration Building; 1331 MLK Jr. Street SE, Grand Rapids, MI 49506

Calendar:

Board of Education
Calendar

Previous

December

2023

Next

S
M
T
W
T
F
S
1
2

Dec 2

2:00 PM to 4:00 PM

Coit Honors Choir w/ West MI Ballet in "The Nutcracker"

Location:

Forest Hills Fine Arts Center

Calendar:

Fine Arts Calendar

600 Forest Hill Ave SE, Grand Rapids Charter Township, MI 49546 3rd - 5th graders perform

3
4

Dec 4

9:00 AM to 9:30 AM

OHHS Festival Choir @ GR Airport

Location:

Gerald R. Ford International Airport

Calendar:

Fine Arts Calendar

5500 44th St SE, Grand Rapids, MI 49512

11:00 AM to 11:30 AM

Coit Honors Choir @ GR Airport

Location:

Gerald R. Ford International Airport

Calendar:

Fine Arts Calendar

5500 44th St SE, Grand Rapids, MI 49512

6:30 PM to 7:30 PM

Board of Education Regular Board Meeting

Location:

Franklin Campus Administration Building; 1331 MLK Jr. Street SE, Grand Rapids, MI 49506

Calendar:

Board of Education

5

Dec 5

9:00 AM to 9:30 AM

U-Prep Choir @ GR Airport

Location:

Gerald R. Ford International Airport

Calendar:

Fine Arts Calendar

5500 44th St SE, Grand Rapids, MI 49512 Choir performance from Grand Rapids University Preparatory Academy

11:00 AM to 11:30 AM

Aberdeen MS Choir @ GR Airport

Location:

Gerald R. Ford International Airport

Calendar:

Fine Arts Calendar

5500 44th St SE, Grand Rapids, MI 49512

5:30 PM to 6:30 PM

Harrison Park Choir Winter Concert

Location:

Harrison Park Academy gym

Calendar:

Fine Arts Calendar

1440 Davis Ave NW, Grand Rapids, MI 49504

6:30 PM to 7:30 PM

Burton Elementary K-2nd Gr Holiday Concert

Location:

Burton Elementary auditorium

Calendar:

Fine Arts Calendar

2133 Buchanan Ave SW, Grand Rapids, MI 49507

6:30 PM to 8:00 PM

Reimagine GRPS with Us! Community & Scholar Feedback Session

Location:

Ottawa Hills High School, 2055 Rosewood Ave SE, Grand Rapids, MI 49506, USA

Calendar:

GRPS District Calendar

7:00 PM to 8:00 PM

SWMH HS & MS Winter Concert

Location:

Southwest Middle High School - Academia Bilingue

Calendar:

Fine Arts Calendar

327 Rumsey St SW, Grand Rapids, MI 49503 performances will be in the gym  MS & HS Bands, & 7th Gr Choir

6

Dec 6

Dickinson Academy K-3rd Gr Winter Concert

Location:

Dickinson Academy

Calendar:

Fine Arts Calendar

448 Dickinson St SE, Grand Rapids, MI 49507

GR Montessori 4th-12th Gr Choirs Winter Concert

Calendar:

Fine Arts Calendar

GR Montessori Academy Band Winter Concert

Location:

Innovation Central High School gym

Calendar:

Fine Arts Calendar

421 Fountain St NE, Grand Rapids, MI 49503 6th Grade Band performance

GR Montessori HS Band Winter Concert

Location:

Innovation Central High School gym

Calendar:

Fine Arts Calendar

421 Fountain St NE, Grand Rapids, MI 49503

GR Montessori MS Band Winter Concert

Location:

Innovation Central High School gym

Calendar:

Fine Arts Calendar

421 Fountain St NE, Grand Rapids, MI 49503

Shawmut Hills Choirs Winter Concert

Calendar:

Fine Arts Calendar

12:00 PM to 12:30 PM

Museum MS Choir @ GR Airport

Location:

Gerald R. Ford International Airport

Calendar:

Fine Arts Calendar

5500 44th St SE, Grand Rapids, MI 49512

12:30 PM to 2:00 PM

Reimagine GRPS with Us! Community Feedback Session (Virtual)

Calendar:

GRPS District Calendar

1:00 PM to 1:30 PM

North Park Montessori 7th/8th Gr Choir @ GR Airport

Location:

Gerald R. Ford International Airport

Calendar:

Fine Arts Calendar

5500 44th St SE, Grand Rapids, MI 49512

1:00 PM to 2:00 PM

Shawmut Hills Choir Winter Concert

Location:

Shawmut Hills School

Calendar:

Fine Arts Calendar

2550 Burritt St NW, Grand Rapids, MI 49504

4:00 PM to 5:00 PM

CANCELED - Board of Education City Board Liaison Committee

Location:

1331 M.L.K. Jr St SE, Grand Rapids, MI 49506, USA

Calendar:

Board of Education

6:00 PM to 7:00 PM

Congress K-5 Strings Winter Concert

Location:

Trinity United Methodist Church

Calendar:

Fine Arts Calendar

1100 Lake Dr SE, Grand Rapids, MI 49506

6:30 PM to 7:45 PM

City High/Middle Orchestras Winter Concert

Location:

City High / Middle School auditorium

Calendar:

Fine Arts Calendar

1720 Plainfield Ave NE, Grand Rapids, MI 49505 7th - 12th Grade orchestra scholars perform Wind Ensemble scholars perform

6:30 PM to 8:00 PM

Reimagine GRPS with Us! Community & Scholar Feedback Session

Location:

Burton Elementary, 2133 Buchanan Ave SW, Grand Rapids, MI 49507, USA

Calendar:

GRPS District Calendar

7

Dec 7

GR Montessori K-3rd Winter Concert

Calendar:

Fine Arts Calendar

9:00 AM to 9:30 AM

City HS Choir @ GR Airport

Location:

Gerald R. Ford International Airport

Calendar:

Fine Arts Calendar

5500 44th St SE, Grand Rapids, MI 49512 Choir performance byCity High School scholars

1:30 PM to 3:00 PM

Reimagine GRPS with Us! Community Feedback Session

Location:

Grand Rapids Public School, 1331 M.L.K. Jr St SE, Grand Rapids, MI 49506, USA

Calendar:

GRPS District Calendar

5:30 PM to 6:30 PM

Alger MS & Ottawa Hills HS Winter Concert

Location:

Ottawa Hills High School auditorium

Calendar:

Fine Arts Calendar

2055 Rosewood Ave SE, Grand Rapids, MI 49506 performances by OHHS Band, OHHS Choirs, Alger MS Band, Alger MS Choir

6:00 PM to 7:00 PM

Chavez Elementary Winter Concert

Location:

Cesar E. Chavez Elementary School gym

Calendar:

Fine Arts Calendar

1205 Cesar E. Chavez Ave SW, Grand Rapids, MI 49503

6:00 PM to 7:00 PM

Kent Hills K-5th Grade Winter Concert

Location:

Kent Hills Elementary School gym

Calendar:

Fine Arts Calendar

1445 Emerald Ave NE, Grand Rapids, MI 49505

6:00 PM to 7:00 PM

Museum School 8th-12th Gr Winter Concert

Location:

Grand Rapids Public Museum

Calendar:

Fine Arts Calendar

272 Pearl St NW, Grand Rapids, MI 49504 Meijer Theatre in the museum Advanced Choir, Concert Choir, 8th Grade Choir performances

6:30 PM to 7:30 PM

Burton Elementary 3rd-5th Gr Holiday Concert

Location:

Burton Elementary auditorium

Calendar:

Fine Arts Calendar

2133 Buchanan Ave SW, Grand Rapids, MI 49507

6:30 PM to 7:30 PM

City 7th-8th Gr Band Holiday Concert

Location:

City High / Middle School auditorium

Calendar:

Fine Arts Calendar

1720 Plainfield Ave NE, Grand Rapids, MI 49505

6:30 PM to 8:00 PM

Reimagine GRPS with Us! Community & Scholar Feedback Session

Location:

Union High School, 1800 Tremont Blvd NW, Grand Rapids, MI 49504, USA

Calendar:

GRPS District Calendar

8
9

Dec 9

Ottawa Hills City Sprints Swim Invitational

Calendar:

GRPS District Calendar

10
11

Dec 11

2:45 PM to 3:45 PM

East Leonard Elem. K-1st Gr Holiday Concert

Location:

East Leonard Elementary School auditorium

Calendar:

Fine Arts Calendar

410 Barnett St NE, Grand Rapids, MI 49503

5:30 PM to 6:30 PM

Board of Education Special Board Meeting/Work Session

Location:

Franklin Campus Administration Building Room 101; 1331 Franklin St. SE, Grand Rapids, MI 49506

Calendar:

Board of Education

12

Dec 12

Dickinson Academy 4th-8th Gr Winter Concert

Location:

Dickinson Academy cafetorium

Calendar:

Fine Arts Calendar

448 Dickinson St SE, Grand Rapids, MI 49507

9:30 AM to 11:00 AM

GRPS Parent Action Leaders (PALs) Meeting

Calendar:

GRPS District Calendar

2:45 PM to 3:45 PM

East Leonard Elem. 2nd-3rd Gr Holiday Concert

Location:

East Leonard Elementary School auditorium

Calendar:

Fine Arts Calendar

410 Barnett St NE, Grand Rapids, MI 49503

5:30 PM to 6:30 PM

Campus Elementary Winter Concert

Location:

Campus Elementary School gym

Calendar:

Fine Arts Calendar

710 Benjamin Ave SE, Grand Rapids, MI 49506

5:30 PM to 7:00 PM

GRPS Parent Action Leaders (PALs) Meeting

Calendar:

GRPS District Calendar

6:00 PM to 6:45 PM

G.R. Ford K-2nd Gr Winter Concert

Location:

Gerald R. Ford Academy gym

Calendar:

Fine Arts Calendar

851 Madison Ave SE, Grand Rapids, MI 49507

6:00 PM to 7:00 PM

Mulick Park K-5th Grade Winter Concert

Location:

Ottawa Hills High School

Calendar:

Fine Arts Calendar

2055 Rosewood Ave SE, Grand Rapids, MI 49506

6:00 PM to 7:00 PM

Riverside MS & Union HS Choirs Winter Concert

Location:

Union High School auditorium

Calendar:

Fine Arts Calendar

1800 Tremont Blvd NW, Grand Rapids, MI 49504

performances by: 

6th - 8th Graders in Riverside MS Choir
Union HS Advanced Choir & Concert Choir

6:30 PM to 7:30 PM

City HS Bands Holiday Concert

Location:

City High / Middle School auditorium

Calendar:

Fine Arts Calendar

1720 Plainfield Ave NE, Grand Rapids, MI 49505 Jazz, Concert, Symphonic, Wind Ensemble w/ Full Orchestra

7:00 PM to 8:00 PM

G.R. Ford 3rd-5th Gr, Orchestras Winter Concert

Location:

Gerald R. Ford Academy gym

Calendar:

Fine Arts Calendar

851 Madison Ave SE, Grand Rapids, MI 49507

13

Dec 13

2:00 PM to 3:00 PM

Location:

Coit Creative Arts Academy gym

Calendar:

Fine Arts Calendar

617 Coit Ave NE, Grand Rapids, MI 49503

2:45 PM to 3:45 PM

East Leonard Elem. 4th-5th Gr Holiday Concert

Location:

East Leonard Elementary School auditorium

Calendar:

Fine Arts Calendar

410 Barnett St NE, Grand Rapids, MI 49503

6:00 PM to 7:00 PM

Location:

Coit Creative Arts Academy gym

Calendar:

Fine Arts Calendar

617 Coit Ave NE, Grand Rapids, MI 49503

14

Dec 14

1:00 PM to 2:00 PM

MLK K-4th Grade Holiday Concert

Location:

Martin Luther King Leadership Academy gym

Calendar:

Fine Arts Calendar

645 Logan St SE, Grand Rapids, MI 49503

2:00 PM to 3:00 PM

MLK 5th-8th Grade Holiday Concert

Location:

Martin Luther King Leadership Academy gym

Calendar:

Fine Arts Calendar

645 Logan St SE, Grand Rapids, MI 49503

5:00 PM to 7:00 PM

Location:

Burton Middle School auditorium

Calendar:

Fine Arts Calendar

2133 Buchanan Ave SW, Grand Rapids, MI 49507 performances by Bands, Orchestras, & Choirs

6:00 PM to 7:00 PM

Brookside Elementary Winter Concert

Calendar:

Fine Arts Calendar

2500 Division Ave S, Grand Rapids, MI 49507




K-5th Grade concert

6:00 PM to 8:00 PM

Westwood MS & Union HS Instrumental Winter Concert

Location:

Westwood Middle School gym

Calendar:

Fine Arts Calendar

1525 Mt Mercy Dr NW, Grand Rapids, MI 49504 Westwood MS Bands & Orchestras: 6th - 8th Grade scholars perform Union HS Band & Orchestra: 9th - 12th Grade scholars perform

6:30 PM to 8:00 PM

City MS & HS Choirs Holiday Concert

Location:

City High / Middle School auditorium

Calendar:

Fine Arts Calendar

1720 Plainfield Ave NE, Grand Rapids, MI 49505 performances by 7th - 12th graders in MS & HS choirs

15

Dec 15

12:00 PM to 12:30 PM

Southwest MHS Treble Choir Caroling

Location:

Grand Rapids Downtown Market

Calendar:

Fine Arts Calendar

2:00 PM to 3:00 PM

Sherwood Park K-6th Grade Holiday Concert

Location:

Sherwood Park Elementary School auditorium

Calendar:

Fine Arts Calendar

3859 Chamberlain Ave SE, Grand Rapids, MI 49508

16
17
18

Dec 18

Calendar:

GRPS District Calendar

1:30 PM to 2:30 PM

Dickinson Academy 5th-8th Gr Choir Feeder Concert

Location:

Dickinson Elementary School cafetorium

Calendar:

Fine Arts Calendar

448 Dickinson St SE, Grand Rapids, MI 49507 5th - 8th Grade Choirs perform for younger scholars & audience

6:30 PM to 7:30 PM

Board of Education Regular Board Meeting

Location:

Franklin Campus Administration Building; 1331 MLK Jr. Street SE, Grand Rapids, MI 49506

Calendar:

Board of Education

19

Dec 19

Calendar:

GRPS District Calendar

4:30 PM to 5:30 PM

Board of Education Academic Achievement Committee

Location:

GRPS Administration Building, 1331 MLK Jr Street SE, Grand Rapids, MI 49506

Calendar:

Board of Education

20

Dec 20

Half Day for Scholars; No LOOP Programming

Calendar:

GRPS District Calendar

4:30 PM to 5:30 PM

Board of Education Ad Hoc Facilities Committee

Location:

GRPS Administration Building, Room 112, 1331 MLK Jr Street SE, Grand Rapids, MI 49506

Calendar:

Board of Education

5:45 PM to 6:45 PM

Board of Education Policy Committee

Location:

GRPS Administration Building, Room 101, 1331 MLK Jr Street SE, Grand Rapids, MI 49506

Calendar:

Board of Education

21

Dec 21

Half Day for Scholars; No LOOP Programming

Calendar:

GRPS District Calendar

22

Dec 22

Half Day for Scholars; No LOOP Programming

Calendar:

GRPS District Calendar

23
24
25

Dec 25

No School; No LOOP Programming

Calendar:

GRPS District Calendar

26

Dec 26

No School; No LOOP Programming

Calendar:

GRPS District Calendar

27

Dec 27

No School; No LOOP Programming

Calendar:

GRPS District Calendar

28

Dec 28

No School; No LOOP Programming

Calendar:

GRPS District Calendar

29

Dec 29

No School; No LOOP Programming

Calendar:

GRPS District Calendar

30

Dec 30

No School; No LOOP Programming

Calendar:

GRPS District Calendar

31

Dec 31

No School; No LOOP Programming

Calendar:

GRPS District Calendar
Preparing our Scholars for the Real World
Points of Pride
8th Largest
School District in Michigan
70+ Languages
Spoken by GRPS Families
80+ Countries
Represented by our Scholar Population
Grad Rates Increase Annually
Above State Average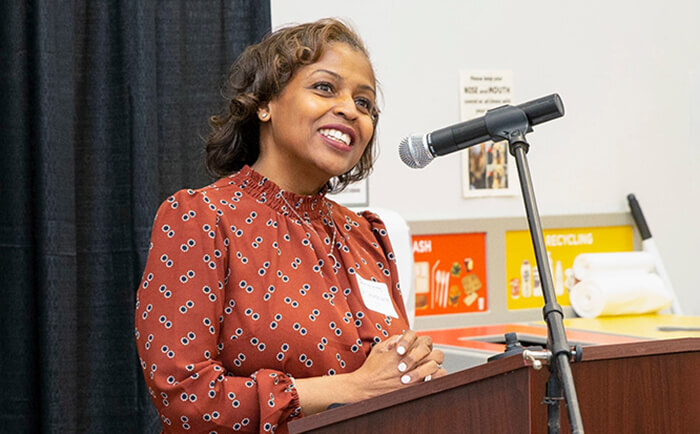 A Message from

Superintendent Dr. Leadriane Roby

It is an honor and privilege to serve as the Superintendent of Grand Rapids Public Schools. As a diverse community with growing changes, we want to ensure your positive experience when working with our schools and district. Together, we are charting a new course through the implementation of our Strategic Plan. No matter who you are, we want you to feel connected to and valued at our district.

Join us as we build a community of belonging at Grand Rapids Public Schools.

Respectfully,

Dr. Leadriane Roby,
Superintendent of Schools