Welcome to

Grand Rapids Public Schools

History Lesson—Neighborhood School Continues to Serve Well Into its Second Century
September 23, 2022
Like the neighborhoods they serve, like the children they graduate, schools evolve over time. This is especially true of Huff School, a welcoming place that went through numerous changes in its long history.

Constructing the Future: How the Promise Zone Scholarship is Helping GRCC Student Maggie Sauceda Bring Her Vision to Life
September 22, 2022
Sauceda is one of 450 students attending GRCC through the Grand Rapids Promise Zone Scholarship, which covers the cost of tuition, fees, and textbooks for eligible students.
Registration is open for the 30th Annual GRPS Turkey Trot
September 21, 2022
Join us on November 24, 2022 (Thanksgiving Day)!

Hurricane Fiona hits home for GRPS leader
September 20, 2022
Hurricane Fiona's impact on Puerto Rico is unmistakable - but it could hardly be more personal for our Dickinson Academy Assistant Principal.

GRPS Investigates Weapon in School
September 20, 2022
Schools officials are investigating after an incident involving a potential weapon in one of the district's schools.

ArtPrize has Inspired, Changed Lives for GRPS Students
September 17, 2022
GRPS students get the opportunity to explore art and learn about artists through the SmartArt competition, ArtPrize Education Days and class field trips.
This is a secondary tab that can be activated when needed to show additional content on the home page without having to increase the height of the page.
Could be used for various other news that is posted.

Board of Education Finance Committee

Location:

GRPS Administration Building Auditorium, 1331 Franklin Street SE

Calendar:

Board of Education

FAFSA Application Opens for 2023-24 (studentaid.gov/fafsa)

Calendar:

GRPS District Calendar

Facilities Master Plan Town Hall Meeting - Virtual

Time:

10:00 AM to 11:30 AM

Calendar:

GRPS District Calendar

Board of Education Meeting

Location:

GRPS Administration Building Auditorium, 1331 Franklin Street SE

Calendar:

Board of Education

COUNT DAY

Calendar:

GRPS District Calendar
Calendar

Previous

September

2022

Next

S
M
T
W
T
F
S
1

Sep 1

No LOOP Programming

Calendar:

GRPS District Calendar

2

Sep 2

No School; No LOOP Programming

Calendar:

GRPS District Calendar

3
4
5

Sep 5

No School - Labor Day; No LOOP Programming

Calendar:

GRPS District Calendar

6

Sep 6

6:30 PM to 7:30 PM

Board of Education Meeting

Location:

GRPS Administration Building Auditorium, 1331 Franklin Street SE

Calendar:

Board of Education

7

Sep 7

5:00 PM to 6:00 PM

Board of Education Academic Achievement Committee

Location:

GRPS Administration Building Auditorium, 1331 Franklin Street SE

Calendar:

Board of Education

8
9
10
11
12

Sep 12

5:30 PM to 6:30 PM

Board of Education Special Board Meeting/Work Session

Location:

Franklin Campus Administration Building Room 101; 1331 Franklin St. SE, Grand Rapids, MI 49506

Calendar:

Board of Education

13

Sep 13

5:30 PM to 7:00 PM

Grand Rapids Public Museum Middle School Open House

Location:

Grand Rapids Public Museum School, 272 Pearl St NW, Grand Rapids, MI 49504, USA

Calendar:

School Orientation/Open House

Join with Google Meet: https://meet.google.com/mxv-xrpj-xxg

14

Sep 14

5:30 PM to 7:30 PM

Center for Economicology Open House

Location:

Center For Economicology, 1720 Plainfield Ave NE, Grand Rapids, MI 49505, USA

Calendar:

School Orientation/Open House

Join with Google Meet: https://meet.google.com/qov-ifbd-wun

5:30 PM to 7:30 PM

City High Middle School Open House

Location:

City High / Middle School, 1720 Plainfield Ave NE, Grand Rapids, MI 49505, USA

Calendar:

School Orientation/Open House

15

Sep 15

9:30 AM to 12:00 PM

GRPS Parent Action Leaders (PALs) Meeting

Calendar:

GRPS District Calendar

5:30 PM to 8:00 PM

GRPS Parent Action Leaders (PALs) Meeting

Calendar:

GRPS District Calendar

16
17
18
19

Sep 19

5:00 PM to 6:00 PM

Board of Education Legislative Committee

Location:

GRPS Administration Building Auditorium, 1331 Franklin Street SE

Calendar:

Board of Education

6:30 PM to 7:30 PM

Board of Education Meeting

Location:

GRPS Administration Building Auditorium, 1331 Franklin Street SE

Calendar:

Board of Education

20

Sep 20

5:30 PM to 7:00 PM

Grand Rapids Public Museum High School Open House

Location:

Grand Rapids Public Schools Museum High School, 54 Jefferson Ave SE, Grand Rapids, MI 49503, USA

Calendar:

School Orientation/Open House

Join with Google Meet: https://meet.google.com/ryt-qkbq-chj

6:00 PM to 7:30 PM

Facilities Master Plan Town Hall Meeting - Virtual

Calendar:

GRPS District Calendar

21

Sep 21

4:00 PM to 5:00 PM

Board of Education Ad Hoc Facilities Committee

Location:

GRPS Administration Building Auditorium, 1331 Franklin Street SE

Calendar:

Board of Education

5:00 PM to 6:00 PM

Board of Education Policy Committee

Location:

GRPS Administration Building Room 101, 1331 Franklin Street SE

Calendar:

Board of Education

22
23
24
25
26

Sep 26

4:30 PM to 5:30 PM

Board of Education Finance Committee

Location:

GRPS Administration Building Auditorium, 1331 Franklin Street SE

Calendar:

Board of Education

27

Sep 27

6:00 PM to 7:30 PM

Facilities Master Plan Town Hall Meeting (Kent Hills Elementary)

Location:

Kent Hills Elementary School, 1445 Emerald Ave NE, Grand Rapids, MI 49505, USA

Calendar:

GRPS District Calendar

28
29

Sep 29

6:00 PM to 7:30 PM

Facilities Master Plan Town Hall Meeting (Riverside Middle School)

Location:

Riverside Middle School, 265 Eleanor St NE, Grand Rapids, MI 49505, USA

Calendar:

GRPS District Calendar

30
Preparing our Scholars for the Real World
Points of Pride
8th Largest
School District in Michigan
70+ Languages
Spoken by GRPS Families
80+ Countries
Represented by our Scholar Population
Grad Rates Increase Annually
Above State Average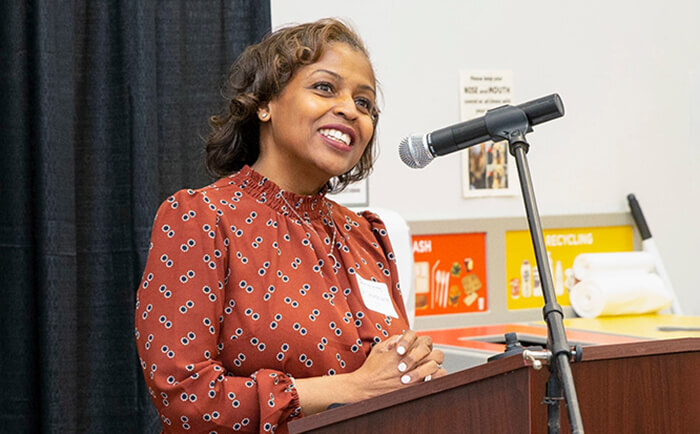 A Message from

Superintendent Dr. Leadriane Roby

It is an honor and privilege to serve as the Superintendent of Grand Rapids Public Schools. As a diverse community with growing changes, we want to ensure your positive experience when working with our schools and district. Together, we are charting a new course through the implementation of our Strategic Plan. No matter who you are, we want you to feel connected to and valued at our district.

Join us as we build a community of belonging at Grand Rapids Public Schools.

Respectfully,

Dr. Leadriane Roby,
Superintendent of Schools