Welcome to

Grand Rapids Public Schools

GRPS represented in state's "largest" Memorial Day parade
June 3, 2023
Grand Rapids Public Schools band scholars marched in the Mackinaw City Memorial Day Parade in honor of those who died in service to our country.

Ottawa Hills track star to run last race as a GRPS scholar at Saturday's MHSAA Division 1 State Finals in Rockford
June 2, 2023
Accomplished athlete, Benne Anderson, brings his passion for running to the last track meet of the season.

Old Bones—Board of Education Makes Rare Purchase for Science
June 2, 2023
In the fall of 1904, the Grand Rapids Board of Education made an unusual purchase - $300 for mastodon bones.

Dr. Roby: Eight graduation ceremonies, scholars 'launch' to successful future
May 31, 2023
As I sat on the graduation stage for each of our ceremonies, I couldn't help but think of the heights our scholars will soar.

An Often-Alternative Approach to Teaching
May 31, 2023
Union's Cory Sutherby wants to connect to his students by any means he can, including a classroom rap now and then on the subject of the day

Pooling Resources—PTA Leader Promoted Well-Rounded Programs for City's Youth
May 26, 2023
From her earliest days as a PTA mom at Dickinson School, Karla Parker was committed to public education.
This is a secondary tab that can be activated when needed to show additional content on the home page without having to increase the height of the page.
Could be used for various other news that is posted.

Board of Education Regular Board Meeting

Location:

Franklin Campus Administration Building; 1331 MLK Jr. Street SE, Grand Rapids, MI 49506

Calendar:

Board of Education

Half Day of School for Scholars (exams-am; no school-pm)

Calendar:

GRPS District Calendar

Half Day of School for Scholars (exams-am; no school-pm)

Calendar:

GRPS District Calendar

Half Day of School for Scholars (exams-am; no school-pm)

Calendar:

GRPS District Calendar

LAST DAY OF SCHOOL FOR SCHOLARS

Calendar:

GRPS District Calendar

Grand Rapids Asian-Pacific Festival

Location:

City of Grand Rapids, City Hall, 300 Monroe Ave NW, Grand Rapids, MI 49503, USA

Calendar:

GRPS District Calendar

Board of Education Special Board Meeting/Work Session

Location:

Franklin Campus Administration Building Room 101; 1331 Franklin St. SE, Grand Rapids, MI 49506

Calendar:

Board of Education

Board of Education Regular Board Meeting

Location:

Franklin Campus Administration Building; 1331 MLK Jr. Street SE, Grand Rapids, MI 49506

Calendar:

Board of Education
Calendar

Previous

June

2023

Next

S
M
T
W
T
F
S
1

Jun 1

6:30 PM to 7:30 PM

CA Frost Academy Spring Concert

Location:

C.A. Frost Environmental Science Academy gym

Calendar:

Fine Arts Calendar

1460 Laughlin Dr NW, Grand Rapids, 49504

7:00 PM to 9:00 PM

Aberdeen Academy Spring Concert

Location:

City High / Middle School auditorium

Calendar:

Fine Arts Calendar

1720 Plainfield Ave NE,   49505

K - 5th Grade General Music
6th - 8th Grade Band
6th - 8th Grade Choir

2
3
4
5

Jun 5

6:30 PM to 7:30 PM

Board of Education Regular Board Meeting

Location:

Franklin Campus Administration Building; 1331 MLK Jr. Street SE, Grand Rapids, MI 49506

Calendar:

Board of Education

6
7

Jun 7

Half Day of School for Scholars (exams-am; no school-pm)

Calendar:

GRPS District Calendar

8

Jun 8

Half Day of School for Scholars (exams-am; no school-pm)

Calendar:

GRPS District Calendar

9

Jun 9

Half Day of School for Scholars (exams-am; no school-pm)

Calendar:

GRPS District Calendar

LAST DAY OF SCHOOL FOR SCHOLARS

Calendar:

GRPS District Calendar

Grand Rapids Asian-Pacific Festival

Location:

City of Grand Rapids, City Hall, 300 Monroe Ave NW, Grand Rapids, MI 49503, USA

Calendar:

GRPS District Calendar

10

Jun 10

Grand Rapids Asian-Pacific Festival

Location:

City of Grand Rapids, City Hall, 300 Monroe Ave NW, Grand Rapids, MI 49503, USA

Calendar:

GRPS District Calendar

11

Jun 11

Grand Rapids Asian-Pacific Festival

Location:

City of Grand Rapids, City Hall, 300 Monroe Ave NW, Grand Rapids, MI 49503, USA

Calendar:

GRPS District Calendar

12

Jun 12

5:30 PM to 6:30 PM

Board of Education Special Board Meeting/Work Session

Location:

Franklin Campus Administration Building Room 101; 1331 Franklin St. SE, Grand Rapids, MI 49506

Calendar:

Board of Education

13
14
15
16
17
18
19

Jun 19

6:30 PM to 7:30 PM

Board of Education Regular Board Meeting

Location:

Franklin Campus Administration Building; 1331 MLK Jr. Street SE, Grand Rapids, MI 49506

Calendar:

Board of Education

20

Jun 20

4:30 PM to 5:30 PM

Board of Education Academic Achievement Committee

Location:

GRPS Administration Building, 1331 MLK Jr Street SE, Grand Rapids, MI 49506

Calendar:

Board of Education

21

Jun 21

4:30 PM to 5:30 PM

Board of Education Ad Hoc Facilities Committee

Location:

GRPS Administration Building, Room 112, 1331 MLK Jr Street SE, Grand Rapids, MI 49506

Calendar:

Board of Education

5:45 PM to 6:45 PM

Board of Education Policy Committee

Location:

GRPS Administration Building, Room 101, 1331 MLK Jr Street SE, Grand Rapids, MI 49506

Calendar:

Board of Education

22
23
24
25
26

Jun 26

4:30 PM to 5:30 PM

Board of Education Finance Committee

Location:

GRPS Administration Building, 1331 MLK Jr Street SE, Grand Rapids, MI 49506

Calendar:

Board of Education

27
28
29
30
Preparing our Scholars for the Real World
Points of Pride
8th Largest
School District in Michigan
70+ Languages
Spoken by GRPS Families
80+ Countries
Represented by our Scholar Population
Grad Rates Increase Annually
Above State Average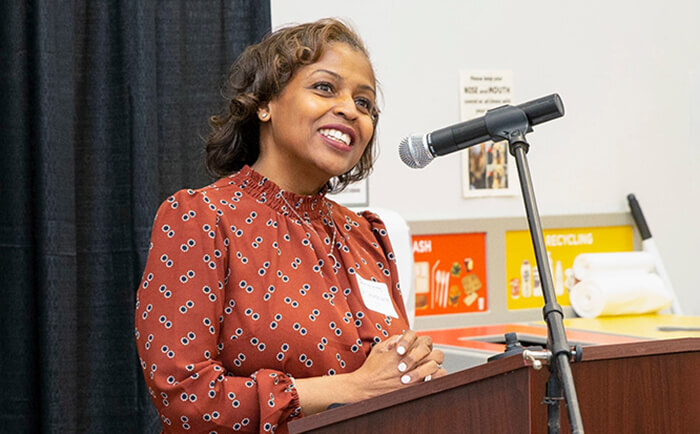 A Message from

Superintendent Dr. Leadriane Roby

It is an honor and privilege to serve as the Superintendent of Grand Rapids Public Schools. As a diverse community with growing changes, we want to ensure your positive experience when working with our schools and district. Together, we are charting a new course through the implementation of our Strategic Plan. No matter who you are, we want you to feel connected to and valued at our district.

Join us as we build a community of belonging at Grand Rapids Public Schools.

Respectfully,

Dr. Leadriane Roby,
Superintendent of Schools