Welcome to

Grand Rapids Public Schools

Campus Elementary Principal Wins Davenport Alumni Award
September 22, 2023
Pastor's daughter and former GRPS student persevered to earn two degrees and a lifetime of experience to share with her scholars.

Don't miss Count Day on Wednesday, October 4, 2023!
September 22, 2023
Attendance is important and counts every single day...but on Wednesday, October 4, it counts for a percentage of your school's funding.

GRPS operations team member remembered as 'gentle giant'
September 20, 2023
The Grand Rapids Public Schools has identified the operations team member who died following an accident on the job Tuesday afternoon.

GRPS mourns loss of staff member following accident on the job
September 19, 2023
A Grand Rapids Public Schools operations team member passed away following injuries sustained in an accident on the job.
REMINDER: School Board meeting is 'on the road' at Westwood Middle School
September 18, 2023
The Grand Rapids Board of Education is taking some of the remaining school board meetings for this school year into the community.

City High Middle School Scholar Joshua Kortenhoven Wins Consumers Energy's 2023 SmartArt Competition
September 18, 2023
Consumers Energy, ArtPrize, GRPS celebrate 20 students for Clean Energy-Themed Artwork
This is a secondary tab that can be activated when needed to show additional content on the home page without having to increase the height of the page.
Could be used for various other news that is posted.

Ottawa Hills Volleyball Tournament

Calendar:

GRPS District Calendar

Board of Education Finance Committee

Location:

GRPS Administration Building, 1331 MLK Jr Street SE, Grand Rapids, MI 49506

Calendar:

Board of Education

Reimagine GRPS with Us! Voter Informational Session

Location:

GRPS University, 1400 Fuller Ave NE, Grand Rapids, MI 49505, USA

Calendar:

GRPS District Calendar

This meeting will be held in person at GRPS University, 1400 Fuller Avenue NE.

A virtual option is also available. 

Please register to attend using this registration link:

https://forms.gle/RtfrSQXbp3s5Nr3Z7

Kensington School Farewell

Location:

1031 Kensington Ave SW, Grand Rapids, MI 49503, USA

Calendar:

GRPS District Calendar

Board of Education Regular Board Meeting

Location:

Franklin Campus Administration Building; 1331 MLK Jr. Street SE, Grand Rapids, MI 49506

Calendar:

Board of Education

Calendar:

GRPS District Calendar

Dean Transportation Update & Parent Feedback | Suggestions

Location:

GRPS University, 1400 Fuller Ave NE, Grand Rapids, MI 49505, USA

Calendar:

GRPS District Calendar

Ottawa Hills Girls Swim Invitational

Calendar:

GRPS District Calendar
Calendar

Previous

September

2023

Next

S
M
T
W
T
F
S
1

Sep 1

No School; No LOOP Programming

Calendar:

GRPS District Calendar

2
3
4

Sep 4

No School; No LOOP Programming - Labor Day

Calendar:

GRPS District Calendar

5

Sep 5

First Day of Great Start Readiness PreK Program (GSRP)

Calendar:

GRPS District Calendar

6:30 PM to 7:30 PM

Board of Education Regular Board Meeting

Location:

Franklin Campus Administration Building; 1331 MLK Jr. Street SE, Grand Rapids, MI 49506

Calendar:

Board of Education

6

Sep 6

4:00 PM to 6:00 PM

Union High School Open House

Location:

Union High School, 1800 Tremont Blvd NW, Grand Rapids, MI 49504, USA

Calendar:

School Orientation/Open House

7

Sep 7

5:00 PM to 7:00 PM

Location:

2133 Buchanan Ave SW, Grand Rapids, MI 49507, USA

Calendar:

School Orientation/Open House

8

Sep 8

7:00 PM to 9:00 PM

GR Montessori Marching Band @ Football Game

Calendar:

Fine Arts Calendar

162 Houseman Ave NE, Grand Rapids, MI

 49503

9
10
11

Sep 11

5:30 PM to 6:30 PM

Board of Education Special Board Meeting/Work Session

Location:

Franklin Campus Administration Building Room 101; 1331 Franklin St. SE, Grand Rapids, MI 49506

Calendar:

Board of Education

12

Sep 12

9:30 AM to 11:00 AM

GRPS Parent Action Leaders (PALs) Meeting

Calendar:

GRPS District Calendar

5:30 PM to 7:00 PM

Grand Rapids Public Museum Middle School Open House

Location:

Grand Rapids Public Museum, 272 Pearl St NW, Grand Rapids, MI 49504, USA

Calendar:

School Orientation/Open House

5:30 PM to 7:00 PM

GRPS Parent Action Leaders (PALs) Meeting

Calendar:

GRPS District Calendar

13
14

Sep 14

5:30 PM to 7:00 PM

Grand Rapids Public Museum High School Open House

Location:

Grand Rapids Public Schools Museum High School, 54 Jefferson Ave SE, Grand Rapids, MI 49503, USA

Calendar:

School Orientation/Open House

15

Sep 15

Ottawa Hills Cross Country Invitational

Calendar:

GRPS District Calendar

11:00 AM to 2:00 PM

Grand Rapids Learning Center Open House

Location:

Grand Rapids Learning Center, 435 Fulton St E, Grand Rapids, MI 49503, USA

Calendar:

School Orientation/Open House

4:00 PM to 7:00 PM

Grand Rapids Learning Center Open House

Location:

Grand Rapids Learning Center, 435 Fulton St E, Grand Rapids, MI 49503, USA

Calendar:

School Orientation/Open House

7:00 PM to 9:00 PM

Union/Frost/Ottawa Marching Band @ Football Game

Calendar:

Fine Arts Calendar

162 Houseman Ave NE, Grand Rapids, MI

 49503

16
17

Sep 17

SmartArt Final Winner Announcement (Studio Park)

Calendar:

GRPS District Calendar

18

Sep 18

5:00 PM to 6:00 PM

Board of Education Legislative Committee

Location:

Westwood Middle School, 1525 Mt Mercy Dr NW, Grand Rapids, MI 49504, USA

Calendar:

Board of Education

6:30 PM to 7:30 PM

Board of Education Regular Board Meeting

Location:

Westwood Middle School, 1525 Mt Mercy Dr NW, Grand Rapids, MI 49504, USA

Calendar:

Board of Education

19

Sep 19

4:30 PM to 5:30 PM

Board of Education Academic Achievement Committee

Location:

GRPS Administration Building, 1331 MLK Jr Street SE, Grand Rapids, MI 49506

Calendar:

Board of Education

20

Sep 20

4:30 PM to 5:30 PM

Board of Education Ad Hoc Facilities Committee

Location:

GRPS Administration Building, Room 112, 1331 MLK Jr Street SE, Grand Rapids, MI 49506

Calendar:

Board of Education

5:45 PM to 6:45 PM

Board of Education Policy Committee

Location:

GRPS Administration Building, Room 101, 1331 MLK Jr Street SE, Grand Rapids, MI 49506

Calendar:

Board of Education

21
22

Sep 22

7:00 PM to 9:00 PM

City HS Marching Band @ Football Game

Calendar:

Fine Arts Calendar

162 Houseman Ave NE, Grand Rapids, MI

 49503

23

Sep 23

Ottawa Hills Volleyball Tournament

Calendar:

GRPS District Calendar

24
25

Sep 25

4:30 PM to 5:30 PM

Board of Education Finance Committee

Location:

GRPS Administration Building, 1331 MLK Jr Street SE, Grand Rapids, MI 49506

Calendar:

Board of Education

26

Sep 26

5:30 PM to 6:30 PM

Reimagine GRPS with Us! Voter Informational Session

Location:

GRPS University, 1400 Fuller Ave NE, Grand Rapids, MI 49505, USA

Calendar:

GRPS District Calendar

This meeting will be held in person at GRPS University, 1400 Fuller Avenue NE.

A virtual option is also available. 

Please register to attend using this registration link:

https://forms.gle/RtfrSQXbp3s5Nr3Z7

27
28

Sep 28

4:00 PM to 6:00 PM

Kensington School Farewell

Location:

1031 Kensington Ave SW, Grand Rapids, MI 49503, USA

Calendar:

GRPS District Calendar

29

Sep 29

7:00 PM to 9:00 PM

GR Montessori Marching Band @ Football Game

Calendar:

Fine Arts Calendar

162 Houseman Ave NE, Grand Rapids, MI

 49503

30

Sep 30

City HS Marching Band @ Kenowa Hlls Invitational (Time TBD)

Calendar:

Fine Arts Calendar
Preparing our Scholars for the Real World
Points of Pride
8th Largest
School District in Michigan
70+ Languages
Spoken by GRPS Families
80+ Countries
Represented by our Scholar Population
Grad Rates Increase Annually
Above State Average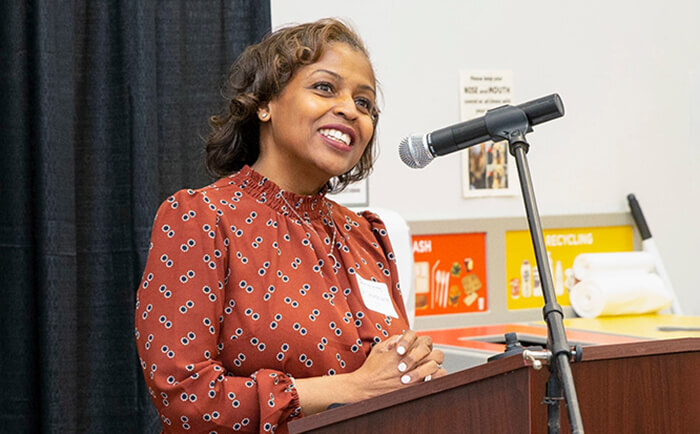 A Message from

Superintendent Dr. Leadriane Roby

It is an honor and privilege to serve as the Superintendent of Grand Rapids Public Schools. As a diverse community with growing changes, we want to ensure your positive experience when working with our schools and district. Together, we are charting a new course through the implementation of our Strategic Plan. No matter who you are, we want you to feel connected to and valued at our district.

Join us as we build a community of belonging at Grand Rapids Public Schools.

Respectfully,

Dr. Leadriane Roby,
Superintendent of Schools