Welcome to

Grand Rapids Public Schools

Making History—Teacher, Author, Education Advocate, Politician Creates An Engaging Life Story
March 24, 2023
Cornelia Steketee's life was anything but typical. She was a teacher, an author, a social advocate, and, on occasion, a politician.

Deep Dive into Black History Month at City High Middle School
March 13, 2023
Scholar-led committees planned events and created decorations during Black History Month at City High Middle School

1,000-Plus Scholars Attend African American Male Achievement Conference
March 13, 2023
Back in person for the first time since 2020, the annual event helped scholars consider challenges, choices and changes.

The Size of Difference - A Woman Who Made One Day At a Time a Winning Lifetime
March 10, 2023
She didn't grow up in Grand Rapids but Vernis Schad is as much a part of the city as any of its founders.

Annual Latinx Youth Conference returns in person this year
March 8, 2023
The Latinx Youth Conference returned in-person this year with more than 800 West Michigan students at the GRCC Ford Fieldhouse. The day was filled with learning, empowerment, and representation targeted toward 8th-grade scholars gearing up for high school.

Harrison Park Scholars Interview Rep. Scholten for Documentary Project
March 7, 2023
A partnership with the West Michigan Center for Arts + Technology sees sixth-grade scholars working on a video documentary and podcast around the question "How do we see ourselves within the community?"
This is a secondary tab that can be activated when needed to show additional content on the home page without having to increase the height of the page.
Could be used for various other news that is posted.

Time:

9:00 AM to 12:00 PM

Location:

*Add This Info*

Calendar:

Human Resources

Location:

*Add This Info*

Calendar:

Human Resources

Board of Education Finance Committee

Location:

GRPS Administration Building, 1331 MLK Jr Street SE, Grand Rapids, MI 49506

Calendar:

Board of Education

Time:

9:00 AM to 12:00 PM

Location:

*Add This Info*

Calendar:

Human Resources

Location:

*Add This Info*

Calendar:

Human Resources

Calendar:

GRPS District Calendar

No School; No LOOP Programming - Spring Break

Calendar:

GRPS District Calendar

Theme School Application Period Closes (3rd Round)

Calendar:

GRPS District Calendar
Calendar

Previous

March

2023

Next

S
M
T
W
T
F
S
1
2
3
4
5
6

Mar 6

6:30 PM to 7:30 PM

Board of Education Regular Board Meeting

Location:

Franklin Campus Administration Building; 1331 MLK Jr. Street SE, Grand Rapids, MI 49506

Calendar:

Board of Education

7
8
9

Mar 9

Southwest MHS Jazz Band @ MSBOA District X Jazz Festival

Location:

Northview High School, 4451 Hunsberger Ave NE, Grand Rapids, MI 49525, USA

Calendar:

Fine Arts Calendar

10

Mar 10

End of 3rd Marking Period

Calendar:

GRPS District Calendar

11
12
13

Mar 13

No School; No LOOP Programming

Calendar:

GRPS District Calendar

5:30 PM to 6:30 PM

Board of Education Special Board Meeting/Work Session

Location:

Franklin Campus Administration Building Room 101; 1331 Franklin St. SE, Grand Rapids, MI 49506

Calendar:

Board of Education

14

Mar 14

Start of 4th Marking Period

Calendar:

GRPS District Calendar

15

Mar 15

Union HS Festival of the Arts Concert (Time TBA)

Location:

Union High School Auditorium

Calendar:

Fine Arts Calendar

4:30 PM to 5:30 PM

Board of Education Ad Hoc Facilities Committee

Location:

GRPS Administration Building, Room 112, 1331 MLK Jr Street SE, Grand Rapids, MI 49506

Calendar:

Board of Education

5:45 PM to 6:45 PM

Board of Education Policy Committee

Location:

GRPS Administration Building, Room 101, 1331 MLK Jr Street SE, Grand Rapids, MI 49506

Calendar:

Board of Education

16

Mar 16

Union HS Orchestra Feeder School Performance (Time TBA)

Location:

Westwood Middle School, 1525 Mt Mercy Dr NW, Grand Rapids, MI 49504, USA

Calendar:

Fine Arts Calendar

9:30 AM to 12:00 PM

GRPS Parent Action Leaders (PALs) Meeting

Calendar:

GRPS District Calendar

5:30 PM to 8:00 PM

GRPS Parent Action Leaders (PALs) Meeting

Calendar:

GRPS District Calendar

6:00 PM to 7:30 PM

Museum HS Arts Night Choirs Performance

Location:

Museum High School Great Hall

Calendar:

Fine Arts Calendar

54 Jefferson Ave SE

Performances by:

Museum MS 8th Gr Choir
Museum HS Choir
Museum Advanced Choir

17
18
19
20

Mar 20

5:00 PM to 6:00 PM

Board of Education Legislative Committee

Location:

GRPS Administration Building, 1331 MLK Jr Street SE, Grand Rapids, MI 49506

Calendar:

Board of Education

6:30 PM to 7:30 PM

Board of Education Regular Board Meeting

Location:

Franklin Campus Administration Building; 1331 MLK Jr. Street SE, Grand Rapids, MI 49506

Calendar:

Board of Education

21

Mar 21

4:30 PM to 5:30 PM

Board of Education Academic Achievement Committee

Location:

GRPS Administration Building, 1331 MLK Jr Street SE, Grand Rapids, MI 49506

Calendar:

Board of Education

6:00 PM to 7:00 PM

CA Frost M/HS Band Festival Concert

Location:

CA Frost Science Academy High School auditorium, 1417 Covell Ave NW

Calendar:

Fine Arts Calendar

7th - 8th Grades Middle School Band High School Band

22
23

Mar 23

9:00 AM to 12:00 PM

1:00 PM to 3:00 PM

5:30 PM to 6:30 PM

Harrison Park K-5 Spring Concert (Time TBA)

Calendar:

Fine Arts Calendar

6:30 PM to 7:30 PM

City 7th Gr Band Festival Concert

Location:

City High / Middle School

Calendar:

Fine Arts Calendar

24

Mar 24

9:00 AM to 12:00 PM

1:00 PM to 3:00 PM

25
26
27

Mar 27

9:00 AM to 12:00 PM

1:00 PM to 3:00 PM

4:30 PM to 5:30 PM

Board of Education Finance Committee

Location:

GRPS Administration Building, 1331 MLK Jr Street SE, Grand Rapids, MI 49506

Calendar:

Board of Education

28

Mar 28

9:00 AM to 12:00 PM

1:00 PM to 3:00 PM

29

Mar 29

5:30 PM to 7:00 PM

Harrison Park Band & Choir Spring Concert

Calendar:

Fine Arts Calendar

30

Mar 30

CA Frost Elementary Feeder Program

Calendar:

Fine Arts Calendar

5th Grade with CA Frost Middle High School music scholars

Calendar:

GRPS District Calendar

31

Mar 31

No School; No LOOP Programming - Spring Break

Calendar:

GRPS District Calendar
Preparing our Scholars for the Real World
Points of Pride
8th Largest
School District in Michigan
70+ Languages
Spoken by GRPS Families
80+ Countries
Represented by our Scholar Population
Grad Rates Increase Annually
Above State Average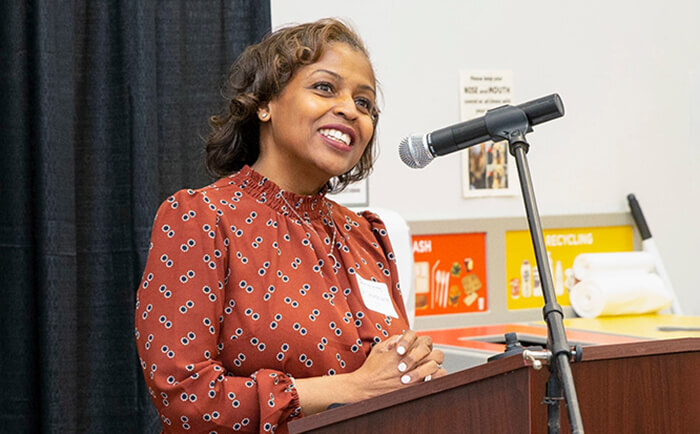 A Message from

Superintendent Dr. Leadriane Roby

It is an honor and privilege to serve as the Superintendent of Grand Rapids Public Schools. As a diverse community with growing changes, we want to ensure your positive experience when working with our schools and district. Together, we are charting a new course through the implementation of our Strategic Plan. No matter who you are, we want you to feel connected to and valued at our district.

Join us as we build a community of belonging at Grand Rapids Public Schools.

Respectfully,

Dr. Leadriane Roby,
Superintendent of Schools