Welcome to

Grand Rapids Public Schools

TV 8's 'Football Frenzy' Features Union High
September 30, 2022
The Union High School Redhawks took the spotlight on the WOOD TV8 "Football Frenzy Tailgate" broadcast Friday morning.

Smile — the Hygiene Police Are Watching
September 30, 2022
Grand Rapids Public Schools did its part to address health issues, such as open-air classrooms to combat the threat of tuberculosis, and membership in the Hygiene League of Kent County.

Ottawa Hills Cross Country Breaks Personal Records at OK Gold Jamboree
September 29, 2022
Athletes had great results putting all 5 scoring runners in the top 25 in a league jamboree since 2018.
Registration is open for the 30th Annual GRPS Turkey Trot
September 28, 2022
Join us on November 24, 2022 (Thanksgiving Day)!

GRPS will celebrate Hispanic Heritage Month with Numerous Activities in 2022
September 26, 2022
Latino authors F. Isabel Campoy and Duncan Tonatiuh will be part of the celebrations virtually, while local Latino artist Erick Picardo will do eight in-person presentations at three different GRPS schools on September 27 and 28.

GRPS Travels to Puerto Rico to Recruit Teachers
September 26, 2022
A delegation from Grand Rapids Public Schools has traveled to Puerto Rico for the past few years and returned with some of our brightest rising stars.
This is a secondary tab that can be activated when needed to show additional content on the home page without having to increase the height of the page.
Could be used for various other news that is posted.

Board of Education Meeting

Location:

GRPS Administration Building Auditorium, 1331 Franklin Street SE

Calendar:

Board of Education

COUNT DAY

Calendar:

GRPS District Calendar

Board of Education Academic Achievement Committee

Location:

GRPS Administration Building Auditorium, 1331 Franklin Street SE

Calendar:

Board of Education

GR Montessori HS Band in Pulaski Days Parade

Calendar:

Fine Arts Calendar

Board of Education Special Board Meeting/Work Session

Location:

Franklin Campus Administration Building Room 101; 1331 Franklin St. SE, Grand Rapids, MI 49506

Calendar:

Board of Education
Calendar

Previous

October

2022

Next

S
M
T
W
T
F
S
1

Oct 1

FAFSA Application Opens for 2023-24 (studentaid.gov/fafsa)

Calendar:

GRPS District Calendar

10:00 AM to 11:30 AM

Facilities Master Plan Town Hall Meeting - Virtual

Calendar:

GRPS District Calendar

2
3

Oct 3

6:30 PM to 7:30 PM

Board of Education Meeting

Location:

GRPS Administration Building Auditorium, 1331 Franklin Street SE

Calendar:

Board of Education

4

Oct 4

6:00 PM to 7:30 PM

Facilities Master Plan Town Hall Meeting - SESIÓN EN ESPAÑOL DISPONIBLE (Cesar E. Chavez Elementary)

Location:

Cesar E. Chavez Elementary School, 1205 Cesar E. Chavez Ave SW, Grand Rapids, MI 49503, USA

Calendar:

GRPS District Calendar

5

Oct 5

COUNT DAY

Calendar:

GRPS District Calendar

5:00 PM to 6:00 PM

Board of Education Academic Achievement Committee

Location:

GRPS Administration Building Auditorium, 1331 Franklin Street SE

Calendar:

Board of Education

6

Oct 6

3:30 PM to 4:30 PM

Board of Education City Board Liaison Committee

Location:

GRPS University, 1400 Fuller Avenue NE

Calendar:

Board of Education

6:00 PM to 7:30 PM

Facilities Master Plan Town Hall Meeting - SESIÓN EN ESPAÑOL DISPONIBLE (Burton Middle School)

Location:

Burton Elementary and Middle School, 2133 Buchanan Ave SW, Grand Rapids, MI 49507, USA

Calendar:

GRPS District Calendar

7
8

Oct 8

GR Montessori HS Band in Pulaski Days Parade

Calendar:

Fine Arts Calendar

9
10

Oct 10

5:30 PM to 6:30 PM

Board of Education Special Board Meeting/Work Session

Location:

Franklin Campus Administration Building Room 101; 1331 Franklin St. SE, Grand Rapids, MI 49506

Calendar:

Board of Education

11

Oct 11

6:00 PM to 7:30 PM

Facilities Master Plan Town Hall Meeting (Brookside Elementary)

Location:

Brookside Elementary School, 2505 Madison Ave SE, Grand Rapids, MI 49507, USA

Calendar:

GRPS District Calendar

12

Oct 12

9:00 AM to 10:30 AM

Facilities Master Plan Town Hall Meeting (Westwood Middle School)

Location:

Westwood Middle School, 1525 Mt Mercy Dr NW, Grand Rapids, MI 49504, USA

Calendar:

GRPS District Calendar

6:00 PM to 7:30 PM

Facilities Master Plan Town Hall Meeting (Mulick Park Elementary)

Location:

Mulick Park Elementary School, 1761 Rosewood Ave SE, Grand Rapids, MI 49506, USA

Calendar:

GRPS District Calendar

13
14
15
16
17

Oct 17

5:00 PM to 6:00 PM

Board of Education Legislative Committee

Location:

GRPS Administration Building Auditorium, 1331 Franklin Street SE

Calendar:

Board of Education

6:30 PM to 7:30 PM

Board of Education Meeting

Location:

GRPS Administration Building Auditorium, 1331 Franklin Street SE

Calendar:

Board of Education

18
19

Oct 19

4:00 PM to 5:00 PM

Board of Education Ad Hoc Facilities Committee

Location:

GRPS Administration Building Auditorium, 1331 Franklin Street SE

Calendar:

Board of Education

5:00 PM to 6:00 PM

Board of Education Policy Committee

Location:

GRPS Administration Building Room 101, 1331 Franklin Street SE

Calendar:

Board of Education

20

Oct 20

Lights On After School Event

Calendar:

GRPS District Calendar

21

Oct 21

End of 1st Marking Period

Calendar:

GRPS District Calendar

22
23
24

Oct 24

No School; No LOOP Programming

Calendar:

GRPS District Calendar

4:30 PM to 5:30 PM

Board of Education Special Board Meeting/Work Session

Location:

GRPS Administration Building, 1331 Franklin Street SE

Calendar:

Board of Education

25

Oct 25

Start of 2nd Marking Period

Calendar:

GRPS District Calendar

26
27
28
29
30
31

Oct 31

Half Day of School for Scholars; No LOOP Programming

Calendar:

GRPS District Calendar
Preparing our Scholars for the Real World
Points of Pride
8th Largest
School District in Michigan
70+ Languages
Spoken by GRPS Families
80+ Countries
Represented by our Scholar Population
Grad Rates Increase Annually
Above State Average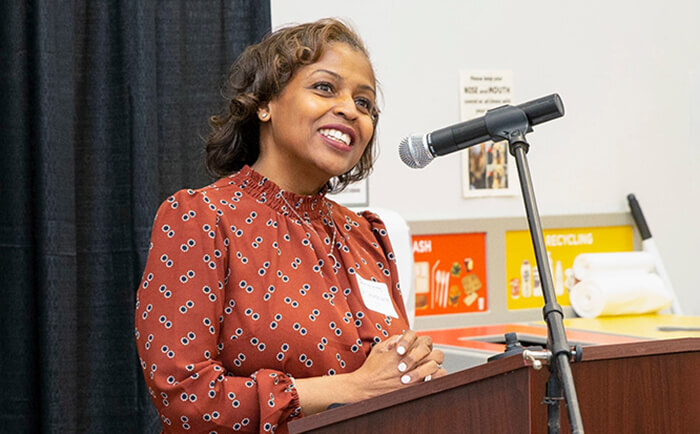 A Message from

Superintendent Dr. Leadriane Roby

It is an honor and privilege to serve as the Superintendent of Grand Rapids Public Schools. As a diverse community with growing changes, we want to ensure your positive experience when working with our schools and district. Together, we are charting a new course through the implementation of our Strategic Plan. No matter who you are, we want you to feel connected to and valued at our district.

Join us as we build a community of belonging at Grand Rapids Public Schools.

Respectfully,

Dr. Leadriane Roby,
Superintendent of Schools