Welcome to

Grand Rapids Public Schools

Supporting GRPS at a Grassroot Level
November 28, 2022
Local organizer recruits friends, family and many others to support donation drives for GRPS schools.

Senior Summit for Class of 2023 Gives Scholars All They Need to Plan for the Future
November 28, 2022
Most of the district's expected 2023 graduates were at GRPS University to gather advice and information for what's next after high school.

Public Hearing Monday to Discuss Facilities Master Plan Recommendations
November 17, 2022
The Grand Rapids Board of Education will hold a Public Hearing on the initial recommendations for the district's Facilities Master Plan.

Nominations Open - OHHS Athletics Hall of Fame
November 16, 2022
Ottawa Hills High School is now accepting nominations for the school's Athletics Hall of Fame.

Classes resumed after building concerns at Innovation Central and GR Montessori Middle High
November 8, 2022
Classes have resumed at Innovation Central High School and Grand Rapids Montessori Middle High School after an assessment of structural concerns of one of the walls at our school building.

Facilities Master Planning Moves Forward
November 7, 2022
The next phase of the GRPS facilities master planning process will be discussed at the Grand Rapids Public Schools Board of Education meeting Monday night.
This is a secondary tab that can be activated when needed to show additional content on the home page without having to increase the height of the page.
Could be used for various other news that is posted.

Theme School Application Period Closes (1st Round)

Calendar:

GRPS District Calendar

Theme School Application Period Opens (2nd Round)

Calendar:

GRPS District Calendar

Board of Education Meeting

Location:

GRPS Administration Building Auditorium, 1331 Franklin Street SE

Calendar:

Board of Education

Board of Education Academic Achievement Committee

Location:

GRPS Administration Building Auditorium, 1331 Franklin Street SE

Calendar:

Board of Education

Board of Education Special Board Meeting/Work Session

Location:

Franklin Campus Administration Building Room 101; 1331 Franklin St. SE, Grand Rapids, MI 49506

Calendar:

Board of Education

Half Day for Scholars (exams-am; no school-pm); No LOOP Programming

Calendar:

GRPS District Calendar

Half Day of School for Scholars (exams-am; no school-pm); No LOOP Programming

Calendar:

GRPS District Calendar

End of 2nd Marking Period

Calendar:

GRPS District Calendar
Calendar

Previous

November

2022

Next

S
M
T
W
T
F
S
1

Nov 1

Theme School Application Period Opens (1st Round)

Calendar:

GRPS District Calendar

2

Nov 2

5:00 PM to 6:00 PM

Board of Education Academic Achievement Committee

Location:

GRPS Administration Building Auditorium, 1331 Franklin Street SE

Calendar:

Board of Education

3
4
5
6
7

Nov 7

6:30 PM to 7:30 PM

Board of Education Meeting

Location:

GRPS Administration Building Auditorium, 1331 Franklin Street SE

Calendar:

Board of Education

8

Nov 8

No School (Professional Development); No LOOP Programming

Calendar:

GRPS District Calendar

9
10

Nov 10

4:30 PM to 6:30 PM

11

Nov 11

7:00 PM to 8:00 PM

CA Frost M/HS Marching Band in Veteran's Day Parade

Location:

Downtown, Grand Rapids, MI

Calendar:

Fine Arts Calendar

BAND MEMBERS: meet at CA Frost M/HS @ 6:00pm

7:00 PM to 8:00 PM

GR Montessori HS Marching Band in Veteran's Day Parade

Location:

Downtown, Grand Rapids, MI

Calendar:

Fine Arts Calendar

7:00 PM to 8:00 PM

Union HS Marching Band in Veteran's Day Parade

Location:

Downtown, Grand Rapids, MI

Calendar:

Fine Arts Calendar

12
13
14

Nov 14

5:30 PM to 6:30 PM

Board of Education Special Board Meeting/Work Session

Location:

Franklin Campus Administration Building Room 101; 1331 Franklin St. SE, Grand Rapids, MI 49506

Calendar:

Board of Education

15

Nov 15

7:00 PM to 8:00 PM

GR Museum HS Advanced Choir @ MSVMA Chamber Festival

Location:

East Grand Rapids High School

Calendar:

Fine Arts Calendar

2211 Lake Dr SE, East Grand Rapids, MI 49506

16

Nov 16

3:30 PM to 6:30 PM

GRPS On-Site Interview Day

Location:

1400 Fuller Ave NE Grand Rapids, MI 49505

Calendar:

GRPS District Calendar

4:00 PM to 5:00 PM

Board of Education Ad Hoc Facilities Committee

Location:

GRPS Administration Building Auditorium, 1331 Franklin Street SE

Calendar:

Board of Education

5:00 PM to 6:00 PM

Board of Education Policy Committee

Location:

GRPS Administration Building Room 101, 1331 Franklin Street SE

Calendar:

Board of Education

5:30 PM to 7:00 PM

Riverside MS Staff v Staff Chili Cookoff & Art Show

Location:

Riverside Middle School, 265 Eleanor St NE

Calendar:

Fine Arts Calendar

Itis a free event with free food, music, art and fun!

17

Nov 17

9:30 AM to 12:00 PM

GRPS Parent Action Leaders (PALs) Meeting

Calendar:

GRPS District Calendar

5:30 PM to 8:00 PM

GRPS Parent Action Leaders (PALs) Meeting

Calendar:

GRPS District Calendar

18
19

Nov 19

11:00 AM to 12:00 PM

GR Montessori HS Band in GR Jaycees Santa Claus Parade

Calendar:

Fine Arts Calendar

11:00 AM to 1:00 PM

City HS Marching Band in GR Jaycees Santa Claus Parade

Calendar:

Fine Arts Calendar

20
21

Nov 21

10:00 AM to 11:00 AM

Burton MS Orchestra Feeder Performance

Location:

Burton Elementary and Middle School auditorium, 2133 Buchanan Ave SW

Calendar:

Fine Arts Calendar

for Burton Elementary scholars in audience

4:00 PM to 6:00 PM

Museum HS Fall Showcase

Location:

Grand Rapids Public Schools Museum High School, 54 Jefferson Ave SE, Grand Rapids, MI 49503, USA

Calendar:

Fine Arts Calendar

student artwork exhibition

5:00 PM to 6:00 PM

Board of Education Legislative Committee

Location:

GRPS Administration Building Auditorium, 1331 Franklin Street SE

Calendar:

Board of Education

6:30 PM to 7:30 PM

Board of Education Meeting

Location:

GRPS Administration Building Auditorium, 1331 Franklin Street SE

Calendar:

Board of Education

22

Nov 22

10:00 AM to 11:00 AM

Burton MS Orchestra Feeder Performance

Location:

Burton Elementary and Middle School auditorium, 2133 Buchanan Ave SW

Calendar:

Fine Arts Calendar

for Buchanan Elementary and César E. Chávez Elementary scholars in audience (field trips from their schools)

23

Nov 23

No School; No LOOP Programming - Thanksgiving Break

Calendar:

GRPS District Calendar

24

Nov 24

No School; No LOOP Programming - Thanksgiving Break

Calendar:

GRPS District Calendar

7:00 AM to 10:00 AM

GRPS Annual Turkey Trot (Van Andel Arena)

Calendar:

GRPS District Calendar

25

Nov 25

No School; No LOOP Programming - Thanksgiving Break

Calendar:

GRPS District Calendar

26
27
28

Nov 28

4:30 PM to 5:30 PM

Board of Education Finance Committee

Location:

GRPS Administration Building Auditorium, 1331 Franklin Street SE

Calendar:

Board of Education

29
30

Nov 30

6:00 PM to 7:00 PM

GR Montessori Band & Choir Winter Concert

Location:

Innovation Central HS big gym

Calendar:

Fine Arts Calendar

5th Grade Band

Middle School Band

High School Band

High School Concert Choir

Middle School Chorale

4th-5th Grade Choir
Preparing our Scholars for the Real World
Points of Pride
8th Largest
School District in Michigan
70+ Languages
Spoken by GRPS Families
80+ Countries
Represented by our Scholar Population
Grad Rates Increase Annually
Above State Average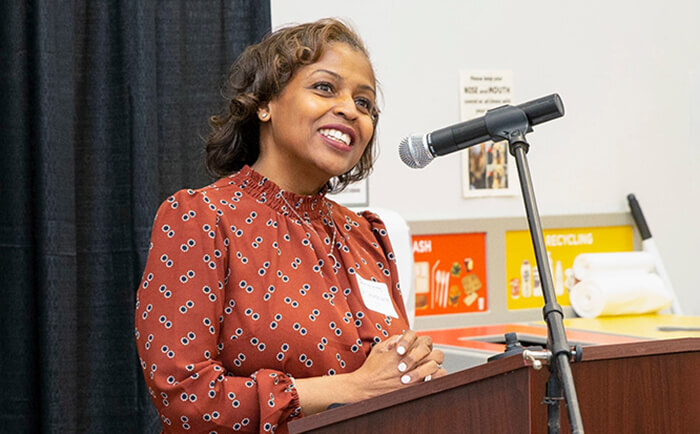 A Message from

Superintendent Dr. Leadriane Roby

It is an honor and privilege to serve as the Superintendent of Grand Rapids Public Schools. As a diverse community with growing changes, we want to ensure your positive experience when working with our schools and district. Together, we are charting a new course through the implementation of our Strategic Plan. No matter who you are, we want you to feel connected to and valued at our district.

Join us as we build a community of belonging at Grand Rapids Public Schools.

Respectfully,

Dr. Leadriane Roby,
Superintendent of Schools