Welcome to

Grand Rapids Public Schools

Don't miss Count Day on Wednesday, February 8, 2023!
February 1, 2023
Attendance is important and counts every single day...but on Wednesday, February 8, it counts for a percentage of your school's funding!

GRPS Cooperative Programs Pave Way for High School Sports
January 31, 2023
Several GRPS middle schools offer no-cut cooperative programs to give scholars the opportunity to play sports and get involved in something outside of academics.

Call My Lawyer — Legal Expert Successfully Challenges the Meaning of Truancy
January 31, 2023
From his days as a Central High School student to countless hours in court, Shelby Brewer Schurtz was a man always on a mission.

The GRPS Expo & Snow Spectacular highlights the exceptional school choices in the district
January 27, 2023
Thank you to all community members, families, and staff who helped make this event a spectacular success!
Little Big Man — Union High Football Star Rises to Every Occasion
January 23, 2023
Robert "Rocky" Parsaca was considered small, even for is era, but he was a triple-threat football star for Union High School.

Burton Elementary Scholar Recognized for Inspiring Others
January 23, 2023
Isiah Rosario has made an impact on his school community with his smile and curiosity.
This is a secondary tab that can be activated when needed to show additional content on the home page without having to increase the height of the page.
Could be used for various other news that is posted.

Theme School Application Period Closes (2nd Round)

Calendar:

GRPS District Calendar

Theme School Application Period Opens (3rd Round)

Calendar:

GRPS District Calendar

Board of Education Regular Board Meeting

Location:

Franklin Campus Administration Building; 1331 MLK Jr. Street SE, Grand Rapids, MI 49506

Calendar:

Board of Education

Count Day

Calendar:

GRPS District Calendar

Board of Education Special Board Meeting/Work Session

Location:

Franklin Campus Administration Building Room 101; 1331 Franklin St. SE, Grand Rapids, MI 49506

Calendar:

Board of Education

No LOOP Programming

Calendar:

GRPS District Calendar

No School; No LOOP Programming - Mid-Winter Break

Calendar:

GRPS District Calendar

No School; No LOOP Programming - Mid-Winter Break

Calendar:

GRPS District Calendar
Calendar

Previous

February

2023

Next

S
M
T
W
T
F
S
1
2

Feb 2

6:30 PM to 7:30 PM

Zoo School Skits w/ Band & Orchestra Performances

Calendar:

Fine Arts Calendar

3

Feb 3

Theme School Application Period Closes (2nd Round)

Calendar:

GRPS District Calendar

12:25 PM to 1:45 PM

Union HS Orchestra Feeder School Performance (Time TBA)

Location:

Burton Middle School, 2133 Buchanan Ave SW, Grand Rapids, MI 49507, USA

Calendar:

Fine Arts Calendar

4

Feb 4

GR Montessori HS Band @ MSBOA Dist 10 S&E (Time TBA)

Location:

Wyoming High School, 1350 Prairie Pkwy SW, Wyoming, MI 49509, USA

Calendar:

Fine Arts Calendar

Theme School Application Period Opens (3rd Round)

Calendar:

GRPS District Calendar

Union HS Choir @ MSVMA Dist. X S&E (Time TBA)

Calendar:

Fine Arts Calendar

5
6

Feb 6

6:30 PM to 7:30 PM

Board of Education Regular Board Meeting

Location:

Franklin Campus Administration Building; 1331 MLK Jr. Street SE, Grand Rapids, MI 49506

Calendar:

Board of Education

7:00 PM to 8:00 PM

Southwest 7th & 8th Gr Band Pre-Festival Concert

Calendar:

Fine Arts Calendar

7

Feb 7

9:30 AM to 10:30 AM

Westwood MS Orchestra Feeder School Performance

Location:

Westwood Middle School

Calendar:

Fine Arts Calendar

1525 Mt Mercy Dr NW

Sibley Elementary 5th Graders will attend this orchestra performance. 

7:00 PM to 8:30 PM

CA Frost M/HS Band & Choir @ Ottawa HS Girls Basketball Game

Location:

Ottawa Hills High School gym

Calendar:

Fine Arts Calendar

8

Feb 8

Count Day

Calendar:

GRPS District Calendar

9
10

Feb 10

7:00 PM to 8:30 PM

CA Frost M/HS Band & Choir @ Union HS Girls Basketball Game

Location:

Union High School gym

Calendar:

Fine Arts Calendar

11
12
13

Feb 13

5:30 PM to 6:30 PM

Board of Education Special Board Meeting/Work Session

Location:

Franklin Campus Administration Building Room 101; 1331 Franklin St. SE, Grand Rapids, MI 49506

Calendar:

Board of Education

14
15

Feb 15

6:00 PM to 7:00 PM

CA Frost Elementary 3rd Gr Campfire Singalong

Location:

Camp Roger, 8356 Belding Rd NE, Rockford, MI 49341

Calendar:

Fine Arts Calendar

16

Feb 16

No LOOP Programming

Calendar:

GRPS District Calendar

17

Feb 17

City HMS Pep Band @ Ottawa Hills HS

Location:

Ottawa Hills High School

Calendar:

Fine Arts Calendar

No School; No LOOP Programming - Mid-Winter Break

Calendar:

GRPS District Calendar

18
19
20

Feb 20

No School; No LOOP Programming - Mid-Winter Break

Calendar:

GRPS District Calendar

21

Feb 21

6:30 PM to 7:30 PM

Board of Education Regular Board Meeting

Location:

Franklin Campus Administration Building; 1331 MLK Jr. Street SE, Grand Rapids, MI 49506

Calendar:

Board of Education

7:00 PM to 8:00 PM

City High/Middle Orchestra Festival Concert

Calendar:

Fine Arts Calendar

22
23
24
25
26
27

Feb 27

6:30 PM to 7:30 PM

City High/Middle School Band Festival Concert

Location:

City High / Middle School auditorium

Calendar:

Fine Arts Calendar

28

Feb 28

2:00 PM to 3:00 PM

Coit Creative Arts Academy Concert

Calendar:

Fine Arts Calendar

6:00 PM to 7:00 PM

Burton Elementary 4th & 5th Gr Color Concert

Location:

Burton Elementary and Middle School auditorium

Calendar:

Fine Arts Calendar
Preparing our Scholars for the Real World
Points of Pride
8th Largest
School District in Michigan
70+ Languages
Spoken by GRPS Families
80+ Countries
Represented by our Scholar Population
Grad Rates Increase Annually
Above State Average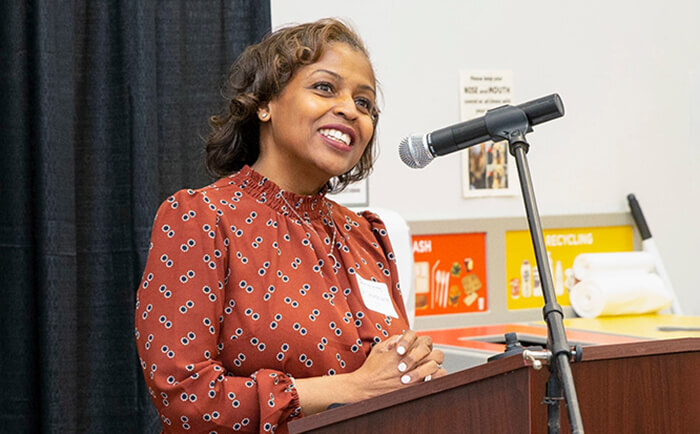 A Message from

Superintendent Dr. Leadriane Roby

It is an honor and privilege to serve as the Superintendent of Grand Rapids Public Schools. As a diverse community with growing changes, we want to ensure your positive experience when working with our schools and district. Together, we are charting a new course through the implementation of our Strategic Plan. No matter who you are, we want you to feel connected to and valued at our district.

Join us as we build a community of belonging at Grand Rapids Public Schools.

Respectfully,

Dr. Leadriane Roby,
Superintendent of Schools