Reimagine GRPS with Us!
Bond Language Approved July 17, 2023
Bonding Proposal for November 7 Election
Shall Grand Rapids Public Schools, Kent County, Michigan, borrow a sum of not to exceed Three Hundred Five Million Dollars ($305,000,000) and issue its general obligation, unlimited tax bonds in two or more series for the purposes of:
purchasing, erecting, completing, remodeling, and equipping or reequipping school buildings, including library buildings, auditoriums, structures, athletic fields, playgrounds, playfields and other facilities, and parts of or additions to those facilities, and acquiring, preparing, developing and improving sites, or parts of or additions to sites, for school buildings;
furnishing or refurnishing school buildings and parts of or additions to those facilities; and
acquiring, installing, and equipping or reequipping school buildings and parts of or additions to school buildings for technology, technology infrastructure and safety and security improvements?
The following is for informational purposes:
The annual millage required to pay the debt service on the proposed and outstanding bonds is estimated to remain at or below the 2023 levy of 3.85 mills. The estimated millage that will be levied for the proposed bonds in 2024 is 1.00 mills ($1.00 for each $1,000 of taxable valuation) for a zero (0) mill increase from the prior year's levy. The estimated simple average annual millage rate required to retire the bonds is 1.83 mills ($1.83 for each $1,000 of taxable valuation). The maximum number of years that any series of the bonds may be outstanding, exclusive of any refunding, will not exceed twenty-six (26) years from the date of each issue.
(Pursuant to State law, expenditure of bond proceeds must be audited, and the bond proceeds cannot be used for maintenance costs, teacher, administrator or employee salaries, or other operating expenses.)
Yes
No
How to Vote Tuesday, November 7
Register to Vote
By mail: Register online, by mail, at the City Clerk or at a Secretary of State branch office by Monday, October 23.
In-person: Register to vote in person at your city or township clerk's office between Tuesday, October 24 and Election Day.
Voting Absentee
Requests to have an absent voter ballot mailed to you must be received by your clerk no later than 5 p.m. the Friday before the election. All voted mail-in and absentee ballots must be received by 8 p.m. on Election Day.
Voting In-Person
Polls will be open on November 7 from 7 a.m. to 8 p.m.
Click here to locate your Absentee Voter Drop Box or Polling Location.
The 'Zero-Tax-Rate-Increase' Bond Proposal prioritizes major challenges facing the district:
Improving academic outcomes
Historical inequities
Safety & security
Staffing shortages
Annual structural budget deficit - a result of too many buildings and not enough staff
Affordable housing
Bond Funds CAN Be Used For
Purchase, erect, complete, remodel, and equip school buildings structures, athletic fields, playgrounds or other facilities
Acquiring, installing, or equipping school buildings for technology
Other capital expenditures
Costs of bond issuance
Bond Funds CANNOT Be Used For
Upgrades to operating systems or applications software except if purchased with qualifying hardware
Training, consulting, service contracts or other software support
Staff wages or benefits or operations of any kind
Bond Program Distributions
Educational Building Construction (New, Add's, Reno's) to equal $233,621,642
Consolidation Improvements to equal $29,147,998
Renovations of Auditoriums to equal $12,714,904
Renovations of Athletics to equal $12,714,904
Technology to equal $7,360,206
Playgrounds to equal $3,826,516
Safety & Security to equal $5,613,829
Proposed budget based on current, best estimates and may be subject to change. Any adjustments require a vote of the Grand Rapids Board of Education at a public meeting.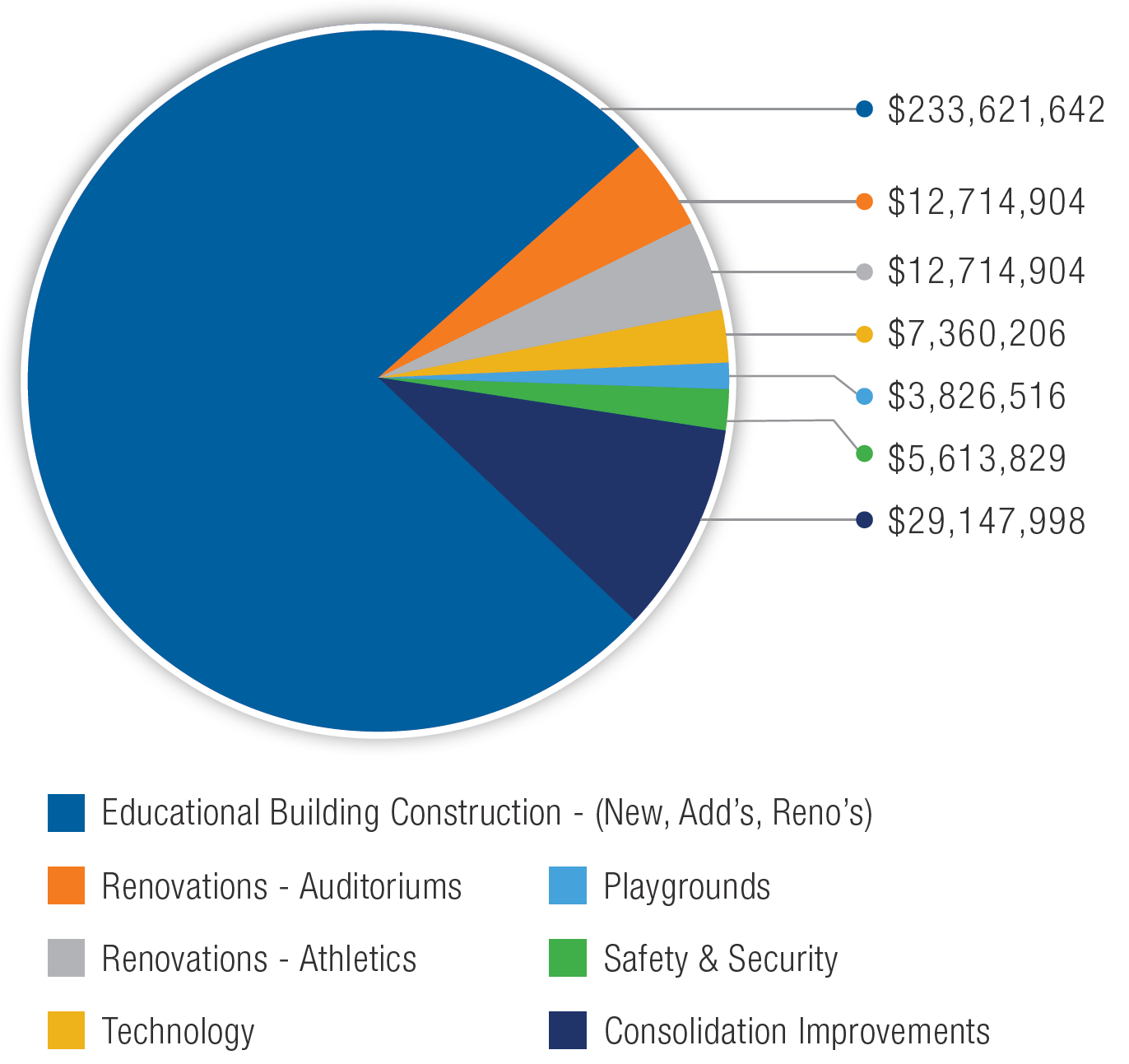 Safe, Healthy and Healing Schools
---
The Reimagine GRPS with Us! vision and plan framework is truly a compilation of more than two years of work listening and learning from the voices, ideas, experience and wisdom of our scholars, parents, caregivers, teachers, support staff, school leaders and community partners.
Together, we formed key objectives to guide our vision and plan for creating safe, healthy and healing schools.
Objectives
Prioritize customer service, responsiveness and communication expectations with continual feedback loops and on-going evaluation.
Each school to prioritize healing-centered themes like: Social, Emotional Wellness; Restorative Justice; Healing-Centered Engagement; Customer Service; Anti-Bias Education; etc.
Quadrant-based Open Houses with community partners with co-facilitators (Partner and GRPS), co-construction of agendas and two-way sharing that centers scholars – quarterly Claim and situate all schools to operationalize their theme of safe, healing and healthy
Create an app (Reimagine GRPS) opening up real-time data for our champions pertaining issues that matter the most - foster related systems (regular cadence of website updates) - expand who provides feedback
Exploration of philanthropic partnership to offer mini-grants to scholar, caregiver and teacher-centered initiatives through participatory budgeting
Collaboration around our success matrix pertaining key topics - acknowledging while the district has always endeavored to do its best with resources it has, our community has experienced hurt and harm
Regular Superintendent Highlight and Update Videos
Deepen structures and practices related to our Grow Your Own initiatives, while strengthening our First Three Years Educator programming and support
Establish a "model classroom" in each school
Amplification of the role of PALS in quadrants
Offer incentives for all staff leading and serving in our partnership schools: Campus, Alger and Ottawa
Incentivize scholar-centered clubs in our partnership schools
Objectives
Fully staffing schools with priority focus on fully staffing schools with Black and Latinx students.

The reality is our state and nation are facing historic teacher and
school staffing shortages.

GRPS

has too many buildings, not enough
students and not enough teachers and support staff – who are spread thin between the 42 school buildings. With 450 vacant staff positions, it is necessary to close and consolidate school to help ensure our schools are fully staffed - without any layoffs.

Increased investment in equitable education opportunities with priority focus on neighborhood schools and SE-side schools
New, improved and expanded state of the art school facilities with the latest instructional technology and education spaces for enhancing teaching and learning for all scholars
Maintaining one-to-one technology for all scholars and teachers
Provide support to our teachers through initiatives such as offering Spanish courses for staff at no cost and launching school support meetings
Expanding the number of Elective, Advanced Placement, Dual Enrollment and Experiential course
Expanding resources/accessibility to social emotional mental health services and support for scholars/staff. Increased training and staffing for social-emotional and mental health services. As described in our repair criteria, we will offer services and honor the two-generation, caregiver systems approach
Increasing scholar voice in decision making for school and district improvement planning with emphasis on increasing scholar engagement, belonging and social-emotional support. Dedicating funds for students to decide how to invest in their schools utilizing the Scholar Advisory Committees.
Objectives
Ensure equitable investments in our boys and girls' sports teams to support competitiveness and state of the art facilities comparable to our peer districts
Fully fund Ottawa Hills and Union High Building Champions campaign improvements (locker rooms, weight rooms, fields, tennis courts, gymnasiums and more)
Renovations/improvements to pools at Ottawa Hills, Union and City High Schools
Houseman Field improvements
Increase stipends to ensure fully staffed coaching for all teams
Objectives
Major renovations to Ottawa Hills High School, Union High School, Innovation Central High School, City High School and Burton Elementary/Middle School auditoriums to transform them into state-of-the-art performance halls
New, improved and renovated art and music spaces at elementary and middle schools
Maintain and expand menu of options for art and music classes
After-School & Extracurricular
Objectives
Expanding after-school program opportunities to increase accessibility and serve more scholars
As part of our repair criteria, whatever is offered in one half of the district is offered in the other half (North and South) - scholars do not have to go outside of their home half to access GRPS Programming
New, improved, expanded playgrounds
New, improved, expanded and more equitably available and accessible extra-curricular offerings (e.g. STEM Greenhouse, debate, mock trial, chess club, robotics, hip hop clubs, poetry/spoken word, etc.)
New, improved, expanded partnership with the City of Grand Rapids Parks & Recreation Department to activate greenspaces, athletic facilities, playgrounds and pools, aligned with Green Grand Rapids Master Plan and prioritizing 3rd Ward/49507
Objectives
Annual air quality monitoring of all schools for CO2, humidity and temperature with targeted investments based on findings.
Investment in new/improved HVAC systems and ensure all schools have air conditioning
Facilities / Operations / Transportation
The reality is the district has too many buildings and not enough support staff due to the significant number of vacancies in custodial, grounds, maintenance and food service. The closure and consolidation of schools, coupled with staff retention and recruitment efforts, will improve the quality of staffing and services in our schools.
Objectives
Investing in custodial/grounds/maintenance improvements to ensure buildings and grounds are regularly cleaned and well maintained. The closure and consolidation of schools will help address staffing shortage issues that have contributed to the challenges of regular groundskeeping, maintenance and cleaning.
Investing in transportation improvements to ensure students are on-time, ready to learn. This includes instituting a tracking process for contract standards and service provisions, reinstituting the parent committee dedicated to transportation improvements and quarterly reports to the Board of Education. The closure and consolidation of schools will reduce the number of yellow bus runs and help ensure transportation is fully staffed and yellow buses on-time frequency is better.
Investing in food service improvements to ensure all students have access to high quality, free school meals – informed by scholar voice – that influence academic readiness. The closure and consolidation of schools will help ensure food service is fully staffed.
Objectives
Continued investment in secure entry ways
New, improved and expanded school safety technology
New, improved and expanded visitor management system
Expanding professional development and training opportunities for scholars, parents, caregivers and staff on school safety, gun safety and overall public safety
Repurposing Vacant, Closed & Underutilized Facilities / Property
Objectives
Our repair criteria states how we will prioritize repurposing our closed buildings for affordable housing and green spaces first
Leveraging district assets (facilities, property, greenspace) by seeking out partnership opportunities for vacated schools and sites. Prioritizing that GRPS maintain ownership for future asset decisions.
Prioritize affordable housing development options for families with children, GRPS teachers and support staff
Reimagine GRPS News & Announcments

GRPS launches 'Reimagine' dashboard to help community track progress
September 15, 2023
Reimagine Framework Referenced Reports
The Reimagine GRPS with Us! Framework highlights the objectives for creating safe, healthy and healing schools and provides background and high-level summary of the leading factors, plans and inputs that informed the development of the Reimagine GRPS with Us! vision framework including:
GRPS Transformation Plan
Leadership Transition
COVID-19 Timeline & Impact
2022-2027 GRPS Strategic Plan
Facilities Master Plan
Reimagined: Community Engagement Report
Housing Affordability & Student Retention Report
Framework Referenced Reports
Zero-Tax-Rate-Increase Bond Opportunity
GRPS Transformation Plan
2022-2027 Strategic Plan
Facilities Master Plan
Reimagined: Becoming West Michigan's District of Choice