We Are GR Publications
We Are GR is a joint communication launched in 2012 by Grand Rapids Public Schools and the City of Grand Rapids. This unique publication is the first of its kind that shares information and highlights about our school district as well as initiatives throughout the city, Grand Rapids parks, and public libraries.
We Are GR Print Magazine
---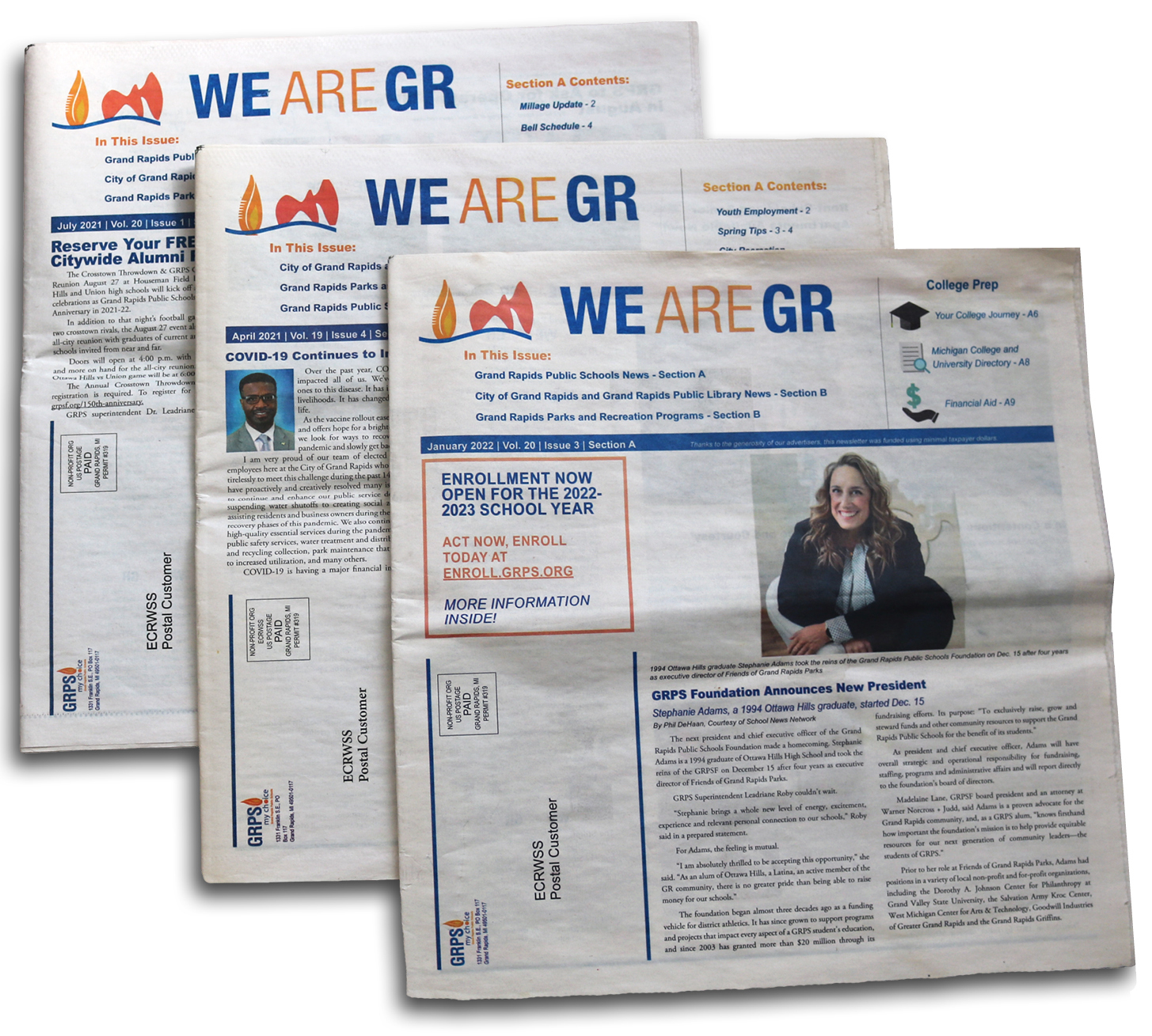 The We Are GR Magazine is published quarterly and delivered to every resident in Grand Rapids at no cost. If you are a business owner in Grand Rapids and would like to have a bundle of We Are GR Magazines delivered to your business for patrons at no cost, please email Communications at communications@grps.org.
No other publication reaches such a large audience at such a low cost! Around 100,000 copies of the We Are GR newsletter are printed quarterly, with approximately 82,000 copies mailed to Grand Rapids residents and GRPS families. An additional 7,500 copies are sent to 300 local schools, businesses, churches, and libraries.
We Are GR Email Newsletter
---
Join our email list to receive our weekly We Are GR email newsletter! Stay up-to-date on all upcoming GRPS events and programs, read headlines from our schools, and more.
The We Are GR email newsletter is sent weekly to over 15,000 subscribers, including GRPS scholars, families, staff, community members.
Advertise in We Are GR
---
Your Advertisement Makes an Impact
When you advertise in We Are GR, you help support GRPS by allowing our district to continue to engage and inform our scholar, families, and community.
Take the next step to promoting your business! Contact the Communications Department at Communications@grps.org for more information.
Communications & External Affairs
Our mission is to support the district by providing high quality and effective communication, community engagement opportunities, and legislative advocacy.