He graduated from high school at age 16. He became a partner in a 150-person law firm at age 29. He spent time in the Oval Office. His name? Patrick A. Miles, Jr. A third-generation resident of southeast Grand Rapids, Miles attended public grade schools before graduating from Ottawa Hills High School at age 16.
He attended college locally, earning a degree in business administration and economics from Aquinas College at age 20 before heading to Harvard Law School. During his time there, Miles became editor of the Harvard Law Record, the first African-American to hold the position. He graduated at age 23 in 1991 along with classmates who included future FCC chairman Julius Genachowski and future U.S. President Barack Obama. Miles returned to Grand Rapids in 1991 and joined the law firm of Varnum Riddering Schmidt & Howlett as an associate.
In 1997, at the age of 29, he was named a partner, the first African-American so named in the firm's 110-year history. A few years later he joined the national law firm of Dickinson Wright as a partner in Grand Rapids. Miles stayed active in his community as well, serving on the board and in leadership roles in a number of area organizations, such as the Grand Rapids Bar Association, the Inner-City Christian Federation, the Hope Network, the Greater Grand Rapids Area YMCA, and the DeVos Children's Hospital Foundation.
In July 2011, he was elected as the first president of the newly formed Grand Rapids Black Chamber of Commerce. Not long after, an old classmate came calling. In 2012 President Barack Obama, early into his second term, asked Miles to serve as United States Attorney for the Western District of Michigan (shown below with his parents at his swearing-in ceremony). Miles held the post for four years, implementing practices that streamlined the office's operations, before stepping aside in early 2017.
He joined the Grand Rapids office of Barnes & Thornburg LLP where he currently specializes in corporate law. For the record, Miles comes from a family with an equally impressive resume. His father, Patrick A. Miles, Sr. is a retired Steelcase Senior Buyer and former chairman of both the Grand Rapids Urban League and the Grand Rapids Planning Commission. His mother, Shirley Cross Miles, is a retired GRPS teacher. His sister, Angela, is a broadcast and media specialist in Chicago.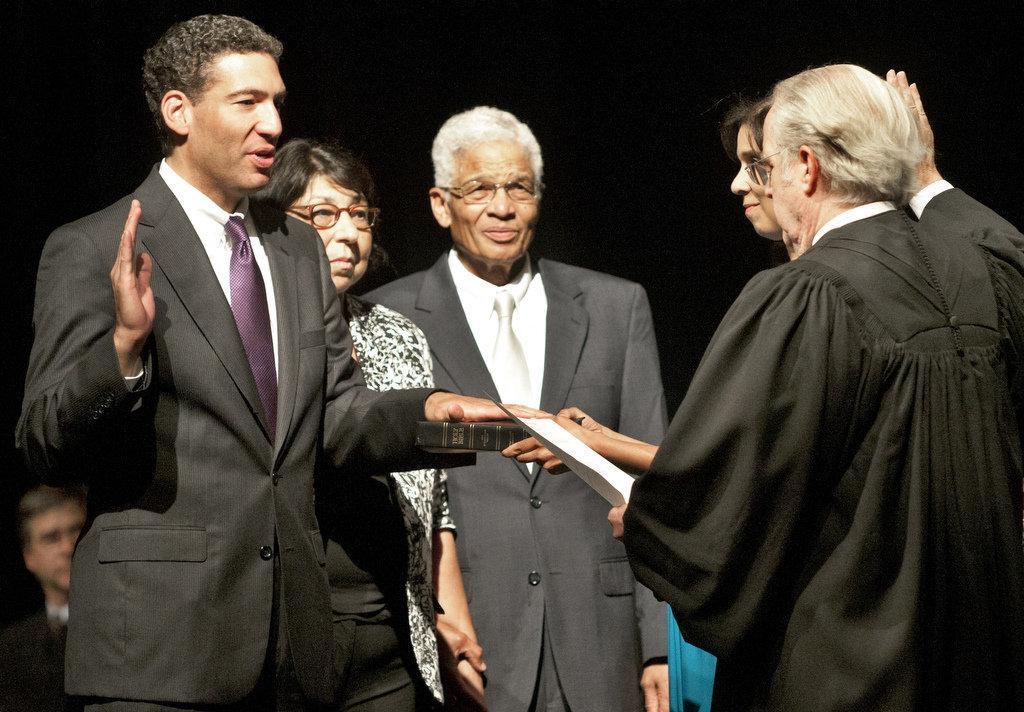 ---
Sources: Ted Roelofs, The Grand Rapids Press, October 17, 2010; John Agar, www.m-live, May 10, 2017; www.justice.gov
Image:: www.m-live