GRAND RAPIDS, Mich. (GRPS) — The Grand Rapids Board of Education received a presentation during its June 5 meeting that detailed how the proposed $305 million "no-tax-increase" would be invested.
Grand Rapids Public Schools is expected to move forward with a "no-tax-increase" bond initiative that would fund critical infrastructure improvements for the district's school facilities.
The school board is slated to vote on the Reimagine GRPS with us! plan framework at its July 17 meeting. The board will also vote on the wording that will be used for the November 7 bond question on the ballot.
GRPS Chief Financial Officer Rhonda Kribs, Executive Director of Communications Leon Hendrix, and Seyferth President John Helmholdt shared the breakdown on the spending with the Grand Rapids Board of Education Finance Committee at its meeting on Tuesday, May 30.
Seyferth is contracting with the district to lead communications and organization on educating the public about the bond.
The breakdown of the proposed bond spending, shared with the finance committee, includes the following allocations:
Building construction costs: Over $233.6 million would be dedicated to building improvements, including enhancements to food service areas.

Consolidation work: $29.1 million would be allocated to fund district consolidation efforts.

Athletics and auditorium facilities: $25.4 million would be invested in upgrades and improvements related to athletics and auditorium facilities.

Technology enhancements: $7.4 million would be used for technology upgrades in GRPS.

Safety and security improvements: $6 million would be dedicated to enhancing safety and security measures across the district.

Playground upgrades: $3.8 million would be allocated for upgrading and improving playground facilities.
The bond dollars would be utilized over the course of a series of three fund releases of about $100 million each spread out over six years.
"Bond money can only be used for things that you can touch and feel," Mr. Hendrix explained in an overview of the allowable uses for bond dollars. "We cannot use bond dollars for operations cost (staffing / salaries) of any kind."
"It is not a tax increase," Mr. Helmholdt explained of the proposed measure. "It's what the taxpayers have been paying."
The bond, Mr. Helmholdt explained, is about making GRPS "more attractive, more competitive, more state-of-the-art".
If the proposed bond initiative passes, voters can expect to see long-overdue improvements needed in GRPS facilities.
The proposed distribution is reflective of feedback received in major community engagement efforts over the past year that has included community meetings and surveys garnering feedback from more than 4,000 GRPS scholars.
"We are committed to a process that includes the voices of our full community," GRPS Superintendent Dr. Leadriane Roby has said. "We've heard what our scholars want, what our families desire, and what our community expects. We'll continue engaging as we put the feedback we've already garnered into meaningful action."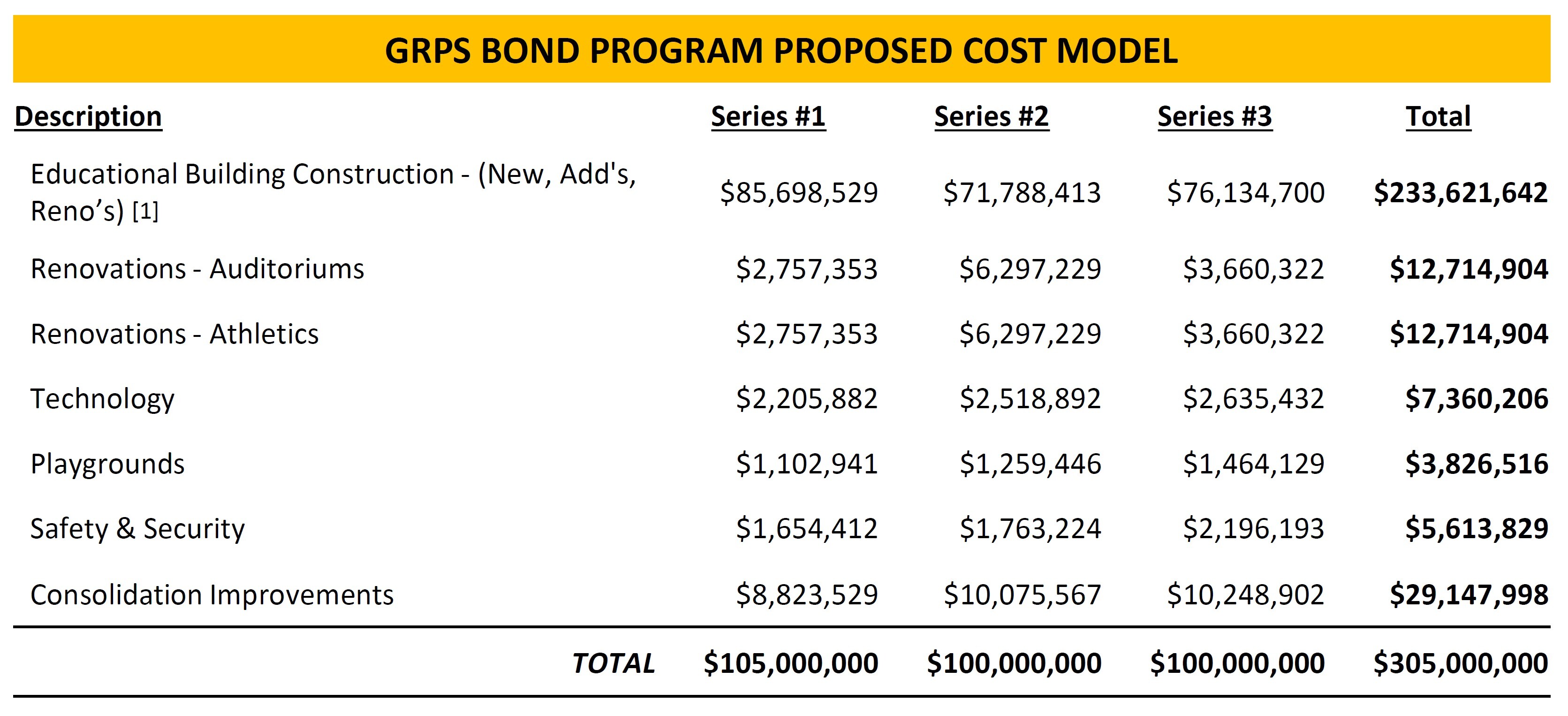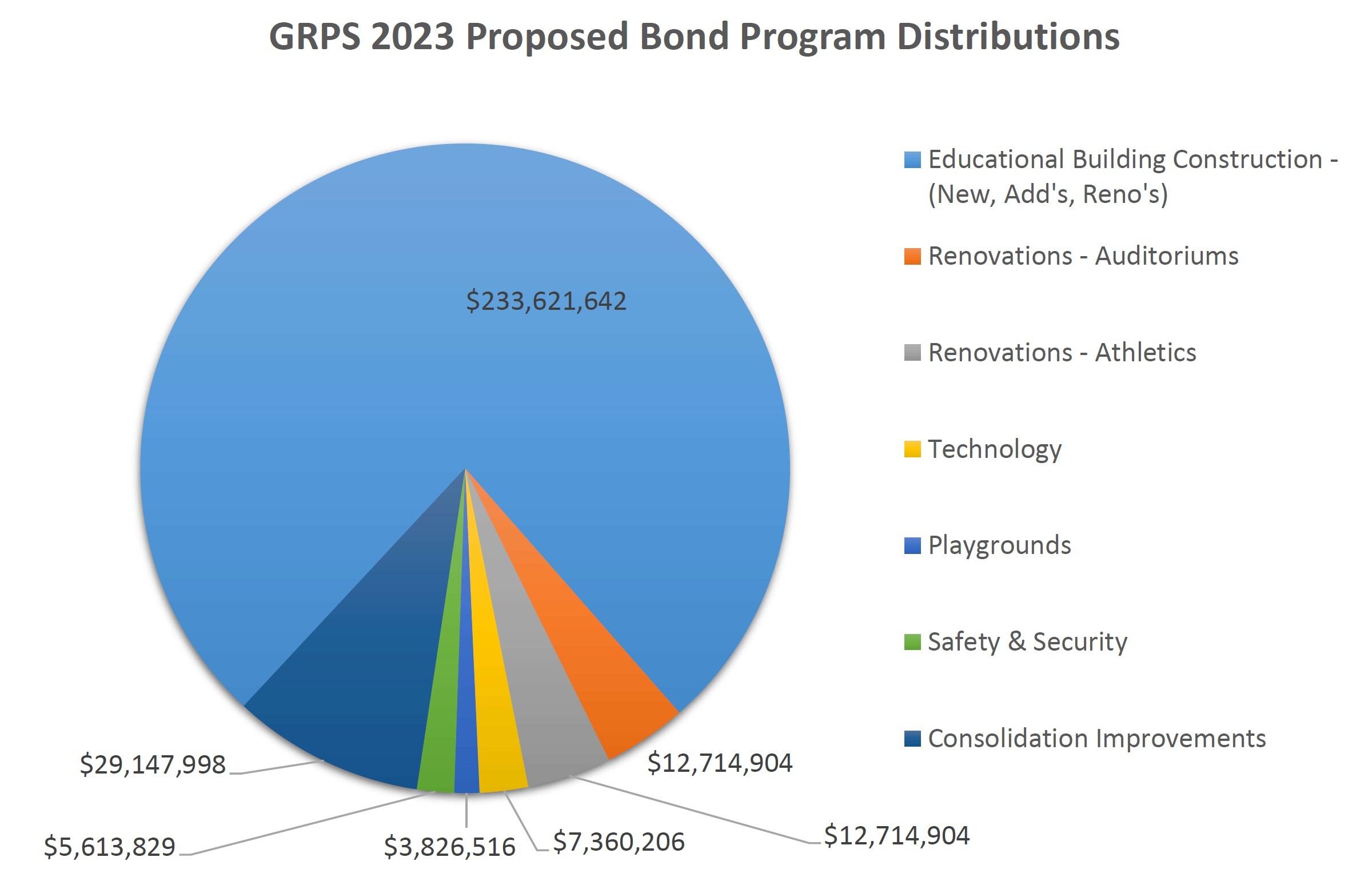 Download GRPS Proposed Bond Program Graphs
*Proposed allocation of bond funding is reflective of the district's current thinking about how the bond dollars should be utilized. The figures within will change based on voter's approving of the bond, board approval, what proceeds actually come of the bond, and market fluctuations in the cost of proposed work to be completed with bond dollars.