In the fall of 1904, the Grand Rapids Board of Education made an unusual purchase - $300 for mastodon bones. The expense was part of a deal that began with a find of bones on the property of farmer C.L. McKay in Moorland, near Ravenna in Muskegon County. At the time, the Board was the administrative arm of the Kent Scientific Institute, the forerunner to today's Public Museum. Institute Director, Herbert E. Sargent, used donations to pay Mr. McKay $75 for the initial collection of bones.
Further digging at the site produced more, however, causing McKay to suggest a more handsome payment be awarded. The additional money authorized by the Board covered further site research and assured that all bones found became the property of the Board.
The bones were considered in "a splendid state of preservation" according to a newspaper report, and Director Sargent pronounced the find one of the greatest made in America. The bones were displayed in the Institute's headquarters at Central High School. The Institute became a separate entity not long after the mastodon discovery.
The bones are still held by the Public Museum and now are one of three sets of mastodon skeletal remains in its permanent collection. In addition to this first set, known as the "Moorland Mastodon," there is "Smitty," discovered in Grandville in the 1980s, and a more recent find (sample shown here) by a Kent County road construction crew working near Kent City. It was not unusual that the Board was in charge of the first mastodon project. It was typical that it was given control over all forms of education in the community.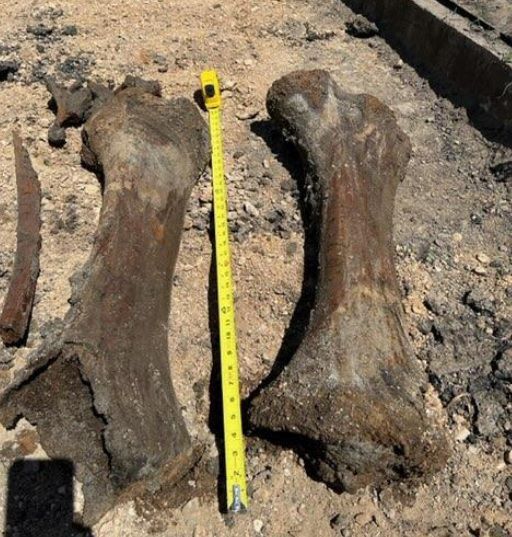 ---
Sources: Grand Rapids Press, September 14, 1904; October 12, 1904; October 20, 1904; Lynn Moore; MLive, September 4, 2022; grpm.com
Image: Copyright m-live.com