They wore suits, ties, and dresses instead of helmets or gym shorts, yet according to at least one local paper debate was once the next big thing in high school sports...yes, sports. An article published in a late 1930 edition of the Grand Rapids Herald declared that debate "may soon rank with football and basketball in drawing crowds." The story goes on to suggest that even though debate may be considered "a more intellectual sport if you will, it could be just as scrappy and drawing as keen a crowd of student rooters."

The writer concluded that if one would just "give the young orators a little while more...you may see streaming crowds of onlookers filling the auditoriums for every forensic engagement." Perhaps the reason behind this idealistic view of the fine art of argument was that all of the city's high schools were battling for supremacy in the Michigan High School Debating League. Sponsored by the University of Michigan, the league involved every district in the state, from Copper Harbor to the Ohio border, and awarded a state championship to the victorious squad. Grand Rapids typically fared well—South High School was state runner-up in 1928.

Debate programs were not new to the school system but they garnered more attention as the city and its schools expanded. Debate was just one example of a focus on teaching the value of oral expression. The debate schedule was established by each district, but the league determined the topic, which was the same for every event. In 1930, the topic was the "chain store issue," which the Herald noted produced spirited competition in the early going. In spite of the paper's enthusiastic endorsement, debate did not routinely draw raucous standing-room-only crowds, but it did continue as a vital part of each school's academic program and lives today through various language arts and performance opportunities.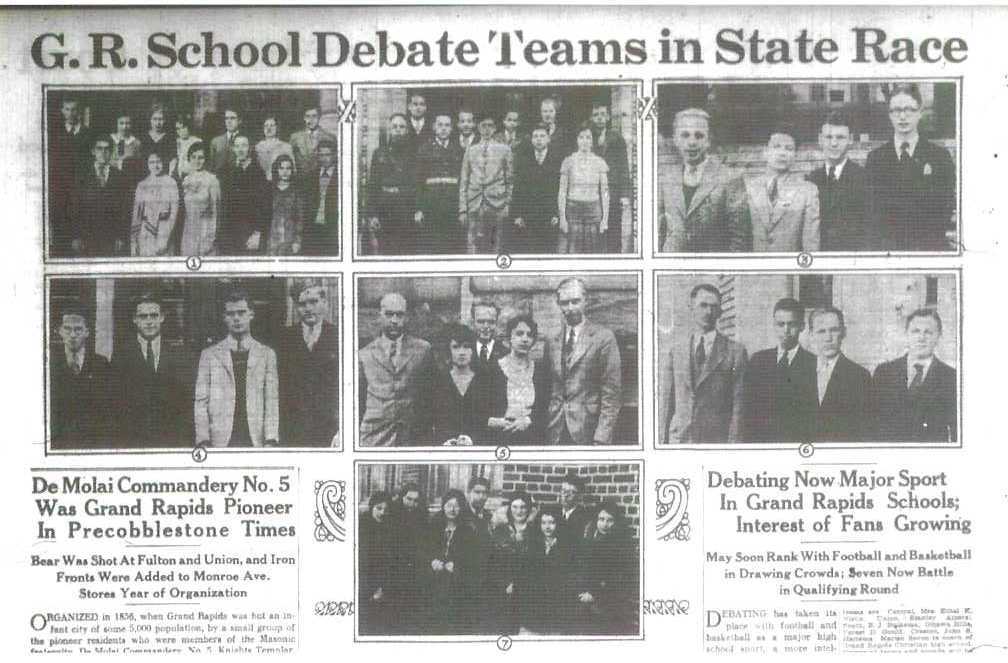 ---
Source: Grand Rapids Herald, December 7, 1930
Image: Grand Rapids Herald, December 7, 1930