GRAND RAPIDS, Mich. (GRPS) — In the early years of the 20th century a great deal of attention was paid to the health and well-being of school-age children—diseases such as cholera, diphtheria, smallpox and the like had devastating consequences, and the flu epidemic in the late teens affected millions worldwide. Grand Rapids Public Schools did its part to address health issues, such as open-air classrooms to combat the threat of tuberculosis, and membership in the Hygiene League of Kent County.
An ambitious undertaking promoted by state and local health care workers and the Board of County Supervisors, the League was formed in late 1914 in affiliation with the Red Cross Town and Country Nursing Service. It became the first attempt to provide uniform health inspection of the region's school children, many of whom had rarely, if ever, seen a dentist or a doctor. Inspections included dental review, nutrition, sleep patterns, vision, general cleanliness, and access to fresh, clean air.
The first Red Cross Visiting Nurse was Charlotte E. Van Duzor, who initially traveled by rail. This means of travel was somewhat limited but in May, 1915 Ms. Van Duzor was presented with a "rattling good car" that enabled her, and her trusty traveling companion, Sandy, to cover 800 square miles, reach over 200 schools, and over 8,000 children.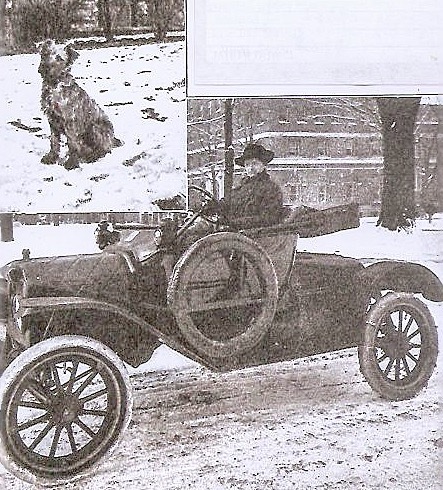 Within a year, Ms. Van Duzor and Sandy logged more than 10,000 miles. The work was expanded to include home visits, diagnostic services from family physicians, and transportation to and from medical facilities when deemed necessary. Charlotte Van Duzor's efforts were regarded as "a model piece of work." She left her post with the Red Cross in 1918, later becoming Vocational Secretary for the National Organization for Public Health Nursing in New York City.
---
Source: Grand Rapids History Center Archives; American Journal of Nursing, Vol. 22, No.7, (April 1922)
Image: Courtesy of Grand Rapids History Center