He was not a teenager, but it was a different time and there were others like him—older high school students were not uncommon in the 19th century. But there was one notable exception. When Eugene Delos Hardy graduated from Grand Rapids High School (later renamed Central High) in 1877, he was the first African-American to gain a diploma in the city's public school system. Hardy was a member of a select group—the school graduated just 31 that year and he had a prominent spot in the commencement ceremony.
A graduate of the Latin Scientific Course, Hardy presented an oratorio titled "The Spirit of Reform" during the program. Hardy's first was one of many for a family whose name still resonates in Gaines Township. Eugene's father, William J Hardy, came to West Michigan in the 1840s. He and his wife, Eliza Watts Hardy, became the first black landowners in the area in 1846 when they purchased 95 acres of land in Gaines Township. The Hardy's ran a highly successful farm, so much so that they were able to sell the first one in 1855 and buy another.
The Hardy's raised five children, Eugene was second in line, and they stayed busy in their community. The family's firsts continued in 1857 when William and Eliza became the first black members of the area's Seventh-Day Adventist Church. William later became treasurer and an elder of the congregation. When the Fifteenth Amendment was ratified in 1870, giving blacks the right to vote, William entered politics. Despite the racial stigma of the time, he was elected Gaines Township supervisor, reportedly the first black elected official in Michigan. He was re-elected several times.
The Hardy family's impact on Gaines Township is recognized today with a commemorative plaque near Hardy Pond (named for William) in Prairie Wolf Park. As for Eugene Hardy, he stayed involved as well. After high school, he studied law for a brief time before choosing a career as a music teacher.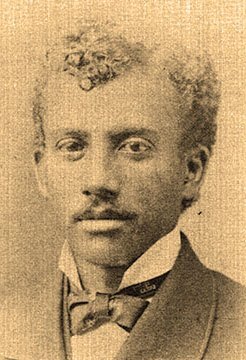 ---
Source: Adventist Review, February 24, 2011
Image: Courtesy of Grand Rapids History Center